6.5 Creedmoor Long Range Precision AR Sniper Rifle Build Guide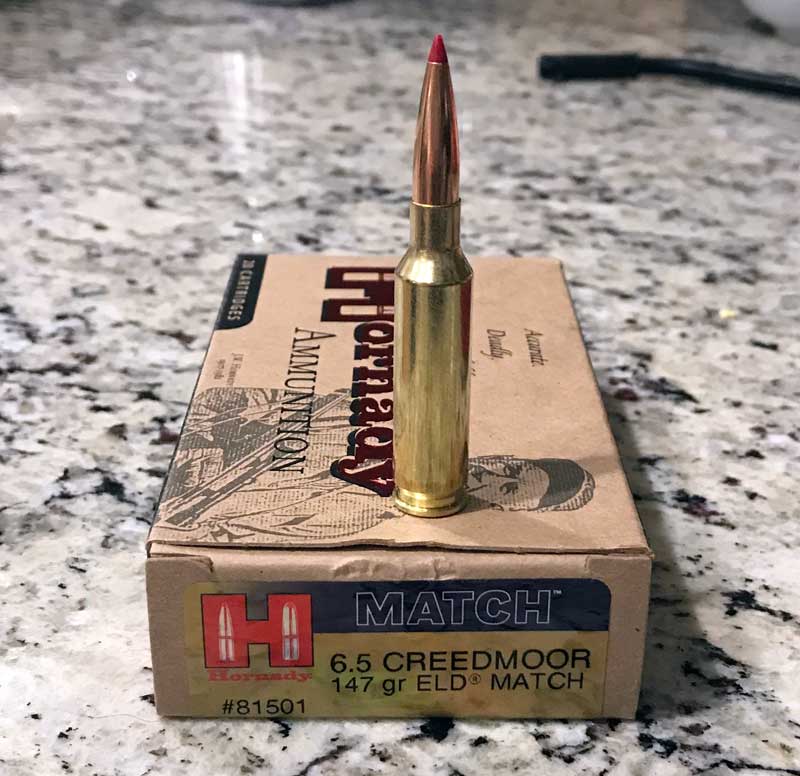 Why 6.5 Creedmoor AR Sniper Rifle?
I've been at this gun thing a very long time and I'm not easily distracted by the latest caliber fads. In fact visitors to all my sites will notice most of my caliber choices are main stream. I also like NATO designated ammunition, I like ammunition that has stood the test of time, I like ammunition that can be purchased at mom and pop stores. This isn't to say I'm not open to new calibers. They just need to make sense and have a purpose. Evidence of this a couple years ago I built a 300 Blackout AR-15. A subsonic suppressed 308 caliber projectile out of an AR-15 was very appealing.
Today I am once again inclined to add a new caliber to my arsenal. That caliber is 6.5 Creedmoor. Basically the 6.5 Creedmoor has been determined to be a candidate to replace.308 in some long range sniper applications. The 6.5mm VLD projectile is a modern designed projectile. It was designed for long range accuracy from the beginning. If you were to research what caliber bullets reign supreme with benchrest shooters you will see either 6mm or 6.5mm. Both projectiles are also the basis for most wildcat benchrest cartridges.
How We Built Our 6.5 Creedmoor Long Range Precision AR Sniper Rifle

Below is the parts selected for our 6.5 Creedmoor AR Precision Sniper Rifle and the detailed justification for each selection. Once all the parts are on hand part 2 of this guide will walk through the physical build process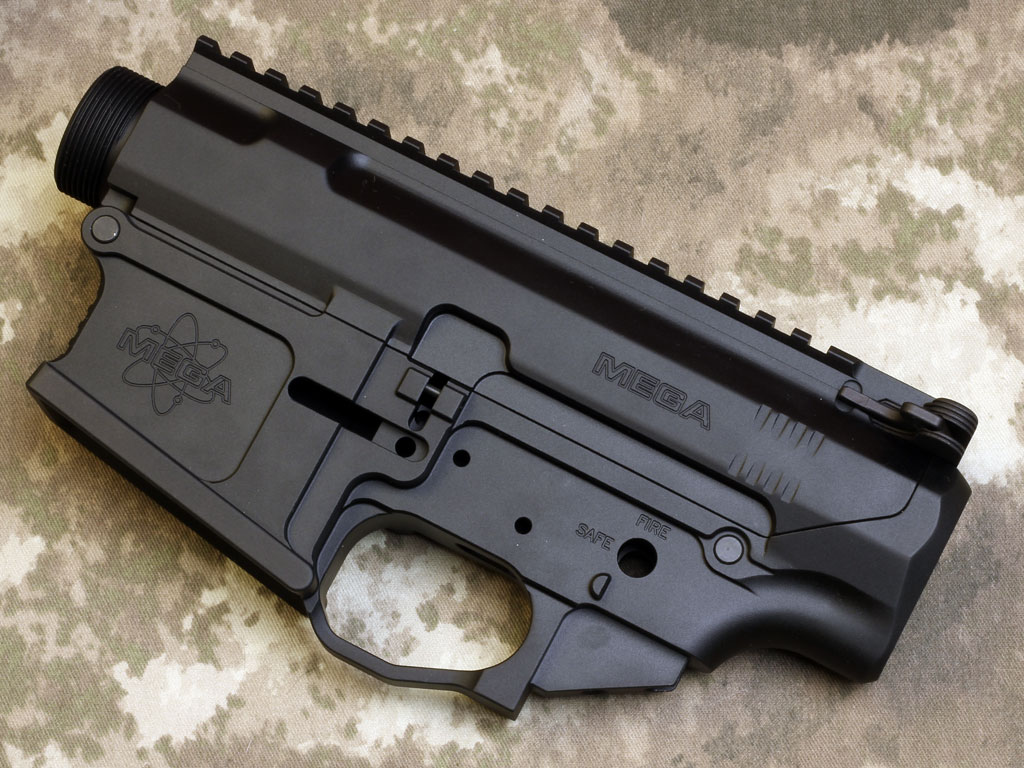 Mega Arms MATEN Ambidextrous Receiver Set 308 AR
Unfortunately  I currently live behind enemy lines and I'm forced to recycle my AR-15 and 308 lowers. This makes my Mega Arms MATEN Ambidextrous Receiver Set 308 AR  my current default 308 setup. It's no big deal. Every website project doesn't need to be one more rifle in a safe
Mega Arms MATEN Ambidextrous Receiver Set 308 AR
Billet aluminum receiver set includes both upper and lower for perfect match in a custom .308 build. Upper features shell deflector optimized for proper ejection and Picatinny rail for mounting optics. Lower has integral trigger guard to ease build process, flared and enlarged mag well for fast reloads, and tensioning screw to achieve seamless fit with upper. Special ambidextrous bolt-release lets shooter release bolt from either side with just a fingertip. Set includes billet charging handle, threaded bolt catch pin, take down pins and ejection port cover. Does not include trigger components or pins, sold separately. Accepts DPMS-pattern parts. Will not fit with DPMS-pattern upper or lower receivers.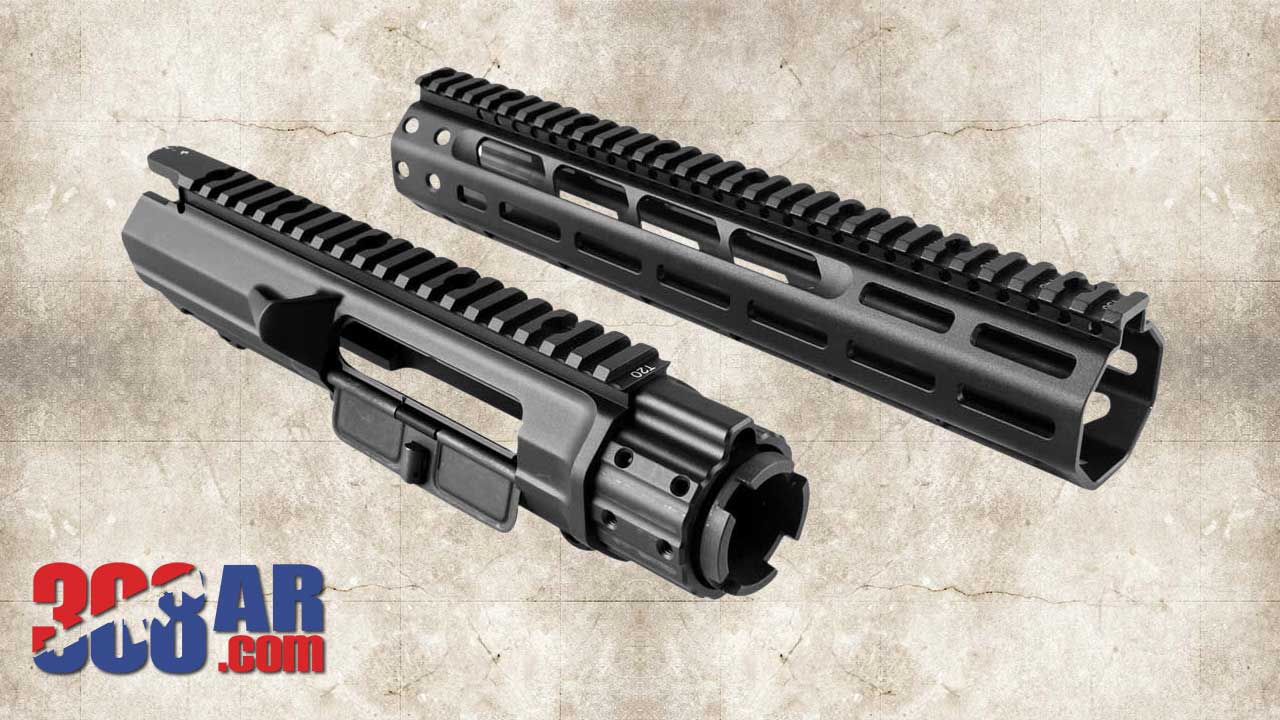 Mega MML MATEN Rifle Length M-Lok Upper Receiver MML 4420 Handguard
Sometimes you get lucky. My original intention was to use the
Mega Arms MATEN Wedge Lock Extended Rifle Length Handguard MLOK-14 WLH-5550ML
for this AR-308 6.5 Creedmoor build. Unfortunately the hardware has been out of stock for some time. Today I was checking status on Brownells and I noticed the 
Mega MML MATEN Rifle Length M-Lok Upper Receiver MML 4420
was on sale for $299.99. This a MATEN upper receiver and bolt on free froat M-Lok handguard for about the same price as the Mega Wedge Lock handguard alone. How could I refuse? This leaves me with money to spend on other parts and a stripped 308 upper to use on my .224 Valkyrie build (did I really just say that?). Yes I'm grinning ear to ear.
Mega MML MATEN Rifle Length M-Lok Upper Receiver MML 4420 with Handguard
The two piece, Mega Arms MML MATEN Rifle Length M-Lok Upper Receiver MML 4420 with Handguard delivers the strength and durability of a billet upper combined with a sturdy lightweight extruded hand-guard. Compatible with M-LOK accessories, the Mega Arms Maten .308 Upper Receiver has a full length Picatinny top rail and laser engraved T-marks for easy mounting and remounting of optics or other accessories.
7075-T6 aluminum
Matte black anodized finish
Laser engraved T-marks on Picatinny top rail
1.75″ inside diameter of hand guard
Rifle length – 12″
Extended rifle length – 14″
Mega extended rifle length – 16″
Compatible only with Mega Arms Maten Billet Lower
The Mega Arms Maten .308 Upper Receiver comes with dust cover door installed, assembly screws, one nine-slot rail, barrel nut and wrench.
Criterion Barrels 308 AR Hybrid Barrel 6.5 Creedmoor 1022S65-HYR-N 22"
It's often said that individual rifle barrel manufacturers are better specific bores or calibers than others. In the case of the 6.5mm bore barrel needed for this
6.5 Creedmoor Long Range Precision AR Sniper Rifle
build
Bartlein Barrels
is generally considered the best.
Bartlein Barrels
certainly has a history of winning competitions. Unfortunately Bartlein does not offer drop-in barrels for AR-10, 308 AR or AR-15 rifles.
Bartlein Barrels
suggests
Craddock Precision
for 308 AR, AR-10 and AR-15 Barrels. I'm investigating Craddock offerings to see they can provide a Bartlein exactly the way I want it. Typically custom barrels are expensive with long lead times. If this is the case the Craddock Barrel will be considered the long term premium option. The Criterion Barrel below will be outstanding and readily available from
Criterion Barrels
direct.
Criterion Hybrid contour match grade 6.5 Creedmoor AR barrels offer an ideal configuration for those seeking extreme accuracy without the added weight of a heavy barrel contour. Featuring a flatter trajectory and higher ballistic coefficient than the traditional .308 Winchester alternative, the 6.5 Creedmoor has grown in popularity with many long range shooters.
Designed to be compatible with DPMS, Midwest Industries, Remington, and Fulton Armory pattern rifles, these 6.5 Creedmoor barrels can be directly swapped with factory .308 barrels.
Button rifled and hand lapped to ensure consistent bore uniformity, Criterion 6.5 Creedmoor AR barrels incorporate a 5/8 x 24 muzzle thread and finished chamber.
Part# -1022S65-HYR-N
Barrel length – 22″
Barrel Twist Rate – 1-8 RH
Barrel Thread – 5/8 x 24
Gas Block – .875
Barrel Material – Stainless Steel, Nitride Coated
Superlative Arms Adjustable Gas Block-Bleed Off
The
Superlative Arms Adjustable Gas Block
comes as a recommendation from Rob. Rob is a former Ranier Arms employee and knows AR-15 and 308 AR rifles better than most. Rob is my "Go to" when I need advice. This rifle will be my second time using a Superlative Arms adjustable gas block. Last year one was used on a Side Charger AR. These adjustable gas blocks are among the best if not THE BEST GAS BLOCKS.
Superlative Arms Adjustable Gas Block
Superlative Arms Adjustable Gas Block
The patented Superlative Arms "Bleed Off", direct impingement, gas block for the AR 308, AR-10 and 308 AR platforms adjusts the gas flow by bleeding the gas out of the block instead of restricting the flow like conventional adjustable blocks.
Results:
The pressure used in the block is reduced only to the amount required to drive the bolt carrier. The remaining gas / pressure are bled out of the block allowing the system to run much cleaner and cooler.
Reduction of felt recoil.
Patent pending adjustment detent is located outside of the block and therefore no contamination.
The gas adjustment screw does not restrict the gas flow; therefore there is no erosion or seizing of the screw / no loss of detent due to carbon build up.  Although it is removable, we have added a safety mechanism, which stops you from unintentionally backing the screw all the way out.
When using SBR's and / or suppressors the bleed off port allows the excessive pressure to be exhausted out of the block reducing blow back.
Data:
Gas Block Material: 416 SS
Barrel Diameter: 0.875″
Weight: t/b/d oz.
Length: 1.00″
Attachment Type: Clamp On
Gas Adjustment:  (Patent Pending) 30 Locked Positions, Front Of Block
Bleed Off Port:  (Patent Pending) Front Of Block
Included:
Gas Block – Assembled
(2) 10-32 x 3/16″ Socket Head Cap Screws
(1) Gas Tube Roll Pins
(1) 3/32 X 6″ L-Shaped Hex Keys
Installation Instructions & QR code for video tutorial
Geissele Super Semi-Automatic Enhanced SSA-E Trigger
Geissele SSA-E Super Semi Automatic Enhanced Trigger Group AR-10, LR-308 Small Pin .154" Two Stage Matte
Built on the chassis of the Geissele SSA, the Super Semi-Automatic Enhanced (SSA-E) provides enhanced trigger control and weapon accuracy while maintaining the robustness and reliability of our combat-proven two-stage trigger. The SSA-E's reduced first and second stage pull weights result in a trigger with a smooth, light first stage take-up and a crisp, candy cane-like second stage break. The SSA-E is ideal for use in precision Squad Designated Marksman type rifles where weapon accuracy and reliability are critical and a non-adjustable drop in trigger is desired.
The Geissele Automatics Super Semi-Automatic Enhanced trigger is a precision tuned, semi-automatic only trigger designed after the Geissele 2-stage combat trigger presently being used by US Special Operations Community. The SSA-E has an enhanced trigger pull improving accuracy with your firearm while still retaining the rugged durability of the combat-tested triggers. The trigger components are constructed of tool steel durability and the engagement surfaces are wire EDM cut for smooth operation. The hammer and trigger pins are constructed of 4140 chrome moly tool steel and are hardened for durability. The hardened pins will not embed debris that will lead to damage of the lower like softer, aftermarket pins. The SSA-E is smooth and light with a first stage of 2.3 pounds; the second stage is 1.2 pounds and breaks crisp and clean. The enhanced trigger is perfect for a Squad Designated Marksman or an SPR type rifle where a match type trigger is desirable without the variability of internal adjustments. The hammer is lighter than a standard AR-15 and combined with the full power spring reduces the lock-time from 8.5 milliseconds to 5.1 milliseconds. The full power spring ensures reliability with hard military primers in some ammunition. The trigger includes installations instructions, a slave pin for installation, and lubricant for the trigger.
Trigger are made from quality tool steel
Sear engagement surfaces are wire EDM cut
Total Pull Weight of: 3.5 lb (2.3 lb first stage, 1.2 lb second stage)
Hi-Speed Hammer with lightweight I-beam construction
Reduced lock time over mil-spec triggers
Hardened 4140 chrome moly steel pins
Full power hammer spring for reliability with hard military primers
Patented secondary sear surface ensures safety in harsh environments
Installation instructions, slave pin, and lubricant included
Aero Precision Black Nitride .308 Bolt Carrier Group - APRH308186
The 6.5 Creedmoor cartridge uses the same bolt carrier group as a .308 Winchester 308 AR
There was a time when the only reliable sources for .308 AR Bolt Carrier Groups were DPMS and Fulton Armory. Today it's a different world. There are dozens of sources. Technology has also caught up with 308 AR BCG's. By technology I'm referring to surface coatings, surface improvements and extractor enhancements. For this 6.5 Creedmoor Long Range Precision AR Sniper Rifle Build Guide I have decided to utilize  the Aero Precision Black Nitride .308 Bolt Carrier Group, APRH308186. Black Nitride also known as "Melonite" is becoming the standard finish for bolt carrier groups and barrels. It makes the surfaces harder and offers a wear resistant, smoother and slipperier finish than many other options. Black Nitride is a process and not a coating. It wont chip or flake. The Aero Precision Bolt carrier group with it's dual o-ring extractor, black nitride finish and price make this carrier an easy choice.
Aero Precision Black Nitride .308 Bolt Carrier Group
The Aero Precision Black Nitride .308 Bolt Carrier Group is the perfect firing mechanism for your big-bore rifle build. This high quality BCG features a Black Nitride finish, is MPI/HPT and now includes a laser engraved Aero Precision "A" logo!
Carrier Features:
Material: Billet carrier machined from 8620 steel and case hardened
Finish: Black Nitride – advanced lower friction coating that minimizes the need for lubricants and cleaning
Gas Key: 4130 Steel attached with Grade 8 hardware and properly staked
Firing Pin: Machined from 8740 steel and hard chrome coated
Forward Assist serrations
Laser engraved Aero Precision logo
Carrier fits DPMS compatible style AR Rifles
Bolt Features:
Material: Case Hardened 9310 Steel
Finish: All bolt components are shot peened and black nitride coated
Extractor: Machined from 4340 Steel with double o-rings and double springs
Magnetic Particle Inspected and High Pressure Tested
High pressure bolt – external surfaces are CNC ground after heat treat for a precision fit and firing pin hole diameter is reduced to .070″
Multi-caliber bolt designed to function with .308, 7.62×51, 6.5 Creedmoor, .338 Federal and other .308 based cartridges.
BCG Includes:
Bolt carrier
Complete bolt
Firing pin
Cam pin
Retaining pin
Brownells 308 AR Rifle Buffer 078-000-343WB
The choice of using the
Brownells 308 AR Rifle Buffer part# 078-000-343WB
in this
6.5 Creedmoor Long Range Precision AR Sniper Rifle Build
was for a couple of reasons. The first being the Brownells branded 308 buffer is a relatively new product offering and trying new products is one of the reasons for
308ar.com
. The second reason is our family of websites would not exist without advertisers. Th final reason is I belong to the "Edge" program and one of the perks is free shipping. Anyhow there are no specifications listed for this 308 buffer but the question is answered in the Q&A section.
The Brownells 308AR Rifle Buffer Part# 078-000-343WB weighs 5.4 Ounces
Magpul PRS Gen3 Precision Adjustable Stock
Selecting the proper stock proved to be one of the more difficult choices for the 6.5 Creedmoor Long Range Precision AR Sniper Rifle Build Guide. I briefly entertained the
MDT Skeleton Stock
as well as the
CAA Sniper Stock
but in the end the choice is once again the Magpul PRS. I currently have a couple  PRS stock in use One AR-10/SR-25 and the remainders AR-15.  This time I'm using the one size fits all
Magpul Gen3 PRS Precision Adjustable Stock
. The third generation has several refinements over the previous versions (read the toggle below). The new stock is also one size fits all. There are no longer two different models needed to accommodate AR-15 and AR 308, 308 AR and AR-10.
Magpul PRS Gen3 Precision Adjustable Stock
The Magpul PRS GEN3 is a field precision stock for AR15/M16 and AR10/SR25 platforms, featuring tool-less length of pull and cheek piece height adjustment.
With solid adjustments for length of pull and cheek piece height via aluminum detent knobs, the PRS GEN3 (Precision Rifle/Sniper) stock provides a stable interface and is intended for semi-automatic sniper or varmint type rifles. Offering a nearly universal fit, it is optimized for rifle-length receiver extensions but will also mount to many mil-spec carbine and A5-length tubes*. Includes a cant/height-adjustable rubber butt-pad and rotation-limiting QD sling swivel cups as well as M-LOK® slots on the bottom for rear monopod mounting. Made in U.S.A.
Magpul PRS Gen3 Precision Adjustable Stock Features
Mounts to rifle-length receiver extension tube without A2 spacer but will also accommodate mil-spec sized M4 Carbine and many A5-length tubes with standard Castle Nuts and End Plates (not included)*
Enhanced strength butt-plate withstands severe impact and recoil up to .50 BMG
Rubber butt-pad provides positive shoulder purchase to prevent slippage and is adjustable for both cant and height
Machined aluminum LOP and Cheek Piece adjustment knobs with positive locking click detents
Steel adjustment shafts finished with Melonite® for wear and corrosion resistance
All aluminum components finished with MIL-A-8625F, Type III, Class 2 hard anodizing
Bottom M-LOK slots provide additional sling mounting possibilities or for attaching 1913 Picatinny rails for use with a monopod
Sling Mounts

Front/Rear – rotation-limited QD sling swivel mounts (swivels not included)
Rear – 1.25″ aluminum sling loop (left-right reversible)
*NOTE: Due to the wide variety of designs and dimensions of carbine receiver extensions as well as the associated mounting hardware, proper fit cannot be guaranteed.  Mounting to a rifle-length receiver extension is recommended to ensure optimal fit and function.
Magpul PRS GEN3 Precision Adjustable Stock Specifications
Weight: 27.8 oz.
Weight, w/rifle receiver extension: 31.2 oz.
Weight, w/carbine receiver extension:  31.7 oz.
Length, max: 11.5-12.9 in.
LOP Adjustment Range: 1.4 in.
LOP, M16 Collapsed: ~14.3 in.
LOP, M16 Extended: ~15.7 in.
Cheek Height Adjustment Range: 0.8 in.
* Specifications based on factory configuration.
Magpul PRS GEN 3 Installation Instructions
Magpul PRS GEN 3 Installation Instructions
LaRue Tactical A-PEG AR-10 Pistol Grip
The LaRue Tactical A-PEG AR-10 Pistol Grip is $14 and has about 300 five star reviews. How can I not give one a try? I ordered the black, rough textured, AR-10 extended version. The extended version is Larue Tactical's way of specifying the AR10 version vs the "standard" AR-15 pistol grip. The next runner up would be the
Ergo Suregrip or Suregrip 2
. Both models work with 308 AR without the use of a spacer
LaRue Tactical A-PEG Grip Pistol Grip
Initially designed with the precision shooter in mind, the folks at LaRue Tactical queried trusted individuals in the precision shooting community what they would prefer in a grip. The result is the LaRue A-PEG™. The project grew into an accessory that featured ambidextrous geometry that can be used by all shooters, enchaining control of AR15-type weapons. The A-PEG™ is available in two sizes; Regular (for 5.56 receivers) and Extended (for 7.62 receivers). The Extended version fills the "gap" in AR10-platform receivers.
Inspired by the human hand, the unique "flats" on the front and back fall more naturally onto the geometry of the hand's structure. The flat front also provides indexing to help level and square the firearm to the target. A sculptured palm swell on either side fits nicely into the hollows of the palm. A gentle taper helps seat the hand towards the firearm, and helps to keep the hand from sliding. The generous texture added to the sides gives just the right amount of traction in slippery conditions.
Having an A2 footprint, the A-PEG™ will attach to almost any firearm that has an AR15-type grip interface. Comes complete with mounting hardware.
Specifications:
Length: 4.0" (Extended version is 4.25")
Length added to firearm: 3.1"
Width: 1.8"
Weight: 4.2 oz.
Materials: Glass-filled polymer.
Colors: Black
Models Available:
Regular (for 5.56 receivers) and Extended (for 7.62 receivers), smooth or rough textured.
Sig Sauer Tango4 6-24X50MM First Focal Plane Rifle Scope SOT46001
Selecting the new
Sig Sauer Tango4 6-24X50MM First Focal Plane Rifle Scope
for this 
6.5 Creedmoor Long Range Precision AR Sniper Rifle Build Guide
is really a leap of faith. The Electro Optics line of rifle scopes from Sig Sauer is a relatively new offering from Sig Sauer. In fact many models have yet to reach the market. This model the SOT46001 is the MOA Milling Reticle version is one of those models. It would be really easy to simply by a Vortex Viper PST Gen II 5-25×50 FFP but what fun would that be. This site is an excuse to try new gear.
SIG SAUER TANGO4 6-24X50MM FIRST FOCAL PLANE RIFLE SCOPE SOT46001
Designed for today's common MSR/AR and bolt action platforms, the TANGO4 6-24x50mm riflescope is the ideal solution for long range precision shooting, tactical engagements and long range hunting. 4x times optical zoom with illumination in a 30mm one-piece maintube. Low dispersion (LD) glass provides industry leading optical clarity for any situation. Offered in first focal plane (FFP) with multiple, illuminated reticle options. Features our MOTAC™ (Motion Activated Illumination) powers up when it senses motion and powers down when it does not. Provides for optimum operational safety and enhanced battery life. Dependable waterproof (IPX-7 rated for complete immersion up to 1 meter) and fog-proof performance. LockDown™ Zero System on the TANGO4 features a resettable zero, zero-stop and auto-locks down at zero.
Scope Details – Battery: CR-2032, Click Value: 1/4 MOA, Eye Relief: 3.30″, Finish: Graphite, Focal Plane: First, Illumination: Yes, Length: 15.6″, Max Magnification: 24x, Min. Magnification: 6x, Objective Size: 50mm, Reticle: MOA Milling, Tube Size: 30mm, Weight: 26.90 oz