Your Complete Guide to Armalite AR-10 Handguards
AR-10 Handguards
Armalite AR-10 Compatible Handguards
I launched this 308AR.com in 2006 to differentiate the two competing platforms, Armalite AR-10 and DPMS LR308. Here I am fifteen years later attempting to help owners of authentic AR-10 rifles locate and select a handguard for their platform. You see, the problem is a Google search for "AR-10 Handguard" or "AR-10 Rail" returns results for the more popular DPMS LR308 platform. This page won't be rich with results simply because there are few handguard options available for the Armalite AR-10. The truth of the matter is Armalite has the widest selection.
Note: Go here DPMS Pattern 308 Handguards.
AR-10 Free Floating Handguards
What is a free-float handguard or rail?: A free-float handguard is designed to mount to the AR barrel nut or upper receiver in a manner that prevents it from directly contacting the barrel.
What is the purpose of a free-float handguard or rail?: The purpose of the free-float handguard is to eliminate the possibility of external pressure on the handguard. The concept is to free-float the barrel. Handguard pressure from holding the rifle or supporting it on a rest can cause barrel deflection. The barrel deflection could negatively affect accuracy by changing a bullet's impact area. Modern free-float handguards are available in many lengths, diameters, and mounting configurations with a plethora of body and rail styles.
Do I need a free-float handguard on my AR-10?: NO! There are no negatives to a free-float handguard (other than cost) but they are not necessary on many rifles. Their advantage is realized at extreme ranges or when the absolute best accuracy is required. Drop-In handguards aren't as popular today as they once were. This translates into fewer options than the free float style. Drop-In handguards are typically used by firearm manufacturers to keep the cost of the AR down.
I practice what I preach, my Armalite AR-10A4 utilizes the MI AR-10 Gen2 Two Piece Handguard MI-AR10CHG2 drop-in handguard.
AR-10 Free Drop-In Handguards
What is a drop-in AR handguard?: A drop-in handguard is as the name implies. The handguard is secured by the Delta Ring and Triangular Handguard Cap. This is the standard Mil-spec A2 handguard mounting system used for decades.
Sources for Armalite AR-10 Handguards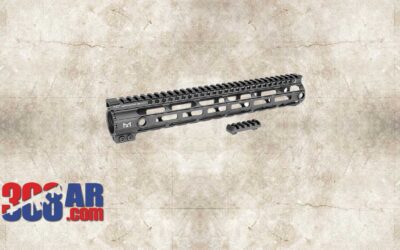 Midwest Industries Armalite AR-10 SS-Series One Piece Free Float Handguard, M-LOK, your shooting experience will be amplified beyond what you ever thought was possible due to its tight fit and ability to provide an unyielding grip. These AR Handguards & Forends, from the professionals at Midwest Industries, are made from high-quality materials that will supply long-lasting durability. For many years, Midwest Industries has been dedicated to producing high-quality products that are ideally suited for shooters from nearly any discipline, and the Midwest Industries Armalite AR10 SS-Series One Piece Free Float Handguard, M-LOK is the direct result of Midwest Industries' commitment to fulfilling what each user requires.
read more