Welcome to 308AR.com The Internets Leading AR-10, 308 AR, DPMS 308, AR308, Authority & Online Community
Dedicated to understanding and promoting AR 308, AR-10 and 308 AR Semi Automatic Rifles and related upgrades, parts and accessories.
Learn to build an AR 308, AR-10, 308 AR Rifles! Learn the differences between the 308 AR, AR-10 AR-15 and AR 308 Rifles! Looking for the best 308 Scope for your AR-10, 308 AR, AR308 ? We can help you chose! Looking to buy an AR 308 AR-10 308 AR? Research here first! AR 10 Upper AR 10 Lower AR 308 Parts Tactical Upgrades, 6.5 Creedmoor AR
Help Wanted
Join the Forum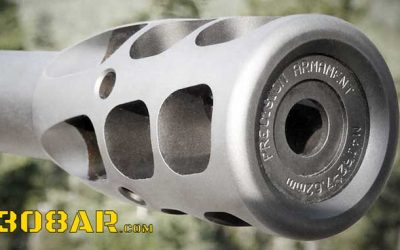 The Precision Armament M41Muzzle Brake may not have the "tactical" or "aggressive" look that many 308 AR rifle shooters seem to prefer today. What this muzzle brake does have to offer is proven performance in the field and that is what really matters. Most Precision Armament M41owners are shocked at how well this muzzle brake reduces felt recoil on the .308 Winchester and .300 Winchester Magnum calibers. You can read many reviews of the Precision Armament M41 muzzle brake….
read more