.308 Scope Selection Guide
Find the Best Scope for Your AR-10 and 308 AR Rifle
There used to be a guideline to budget as much on your rifle scope and scope mount as you spend on your rifle, while that still applies somewhat today if you want the best scope money can buy and have the cash to buy it but you shouldn't feel pressured to do so.
Define Your Scope Needs and Budget
From a budget and magnification standpoint be realistic with your needs. You don't need a $4300  NIGHTFORCE BEAST 5-25X56MM SCOPE ZEROSTOP F1 DIGILLUM H59 RETICLE to punch paper at 100 yards or hunt wild boar in the brush. On the opposite side of the spectrum a $250 VORTEX OPTICS 4X CROSSFIRE II isn't going to be your best choice for taking out bad guys at 800 yards.
You Get What You Pay For With Scopes
Modern manufacturing methods have come a long way to improve the quality of low cost scopes but make no mistake there are substantial differences in most expensive scopes.
Construction Quality: Generally speaking expensive scopes are precisely manufactured optical devices inside and out
Glass: Expensive scopes typically have better glass that is clearer and brighter than cheap scopes. They also feature coatings to improve optical performance.
Light Gathering: 
Useable Magnification:
Precise Adjustments:
Repeatability:
Environmental Resistance:
Durability:
You might also be interested in our picks for the Top 5 AR-10 308 AR Scopes for 2018.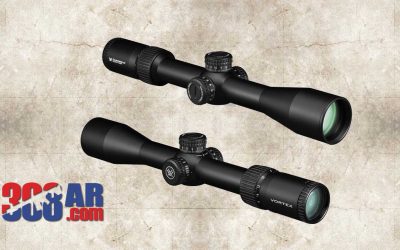 The $349 Vortex Diamondback Tactical 4-16×44 FFP Rifle Scope features a first focal plane reticle, a feature ordinarily reserved for 4-figure-priced scopes. This allows shooters to use the information-packed EBR-2C reticle for ranging, holdovers or windage corrections on any magnification. Housed inside its durable, one-piece aluminum tube is a 4x optical system delivering excellent edge-to-edge clarity and sharp resolution. Exposed elevation and windage turrets are low profile enough to stay out of the way in packing situations, but offer the quickness, ease and precision of dialing accurate shots at distance. A side adjustable parallax gives shooters peace of mind by removing parallax error from the equation from 20 yards to infinity.
read more