SMALL FRAME 308 AR (INTERMEDIATE FRAME 308 AR)
Maybe They Had It Right The First Time
I don't often like to dwell on past firearm history on this site but I'm going to make a rare exception here. In 1959 Colt bought the design of the AR-10 and AR-15 from Armalite. Colt designed but never produced the AR-10A which is smaller than today's Armalite AR-10A and other manufacturers 308 AR's. The original AR-15 was based on a scaled down AR-10. The Colt AR-10A was a scaled up version of the AR-10 that was not as large as today's modern Armalite AR-10A, AR-10B, DPMS based 308AR or KAC SR-25. 
The Colt AR-10A was sized closer to todays AR-15 than the full sized AR-10's/308 AR's or what is now. Today we refer to this born again class of 308 AR as "Small Frame 308" or "Intermediate Frame 308" . Examples of this would be the DPMS G2, Colt 901, POF Revolution, Zev Tech Small Frame and Adams Arms Small Frame. It remains to be seen if this is the 308 AR/AR-10 of the future but being lighter and less expensive to manufacture are very compelling reasons.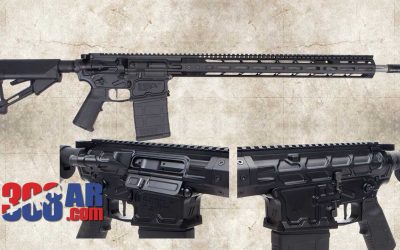 The ZEV Small Frame was designed to deliver the firepower of large frame calibers in a rifle with the size, weight, and feel of an AR15 to provide shooters who demand the best with a high performance rifle platform that is adaptable to any application. ZEV then conducted extensive testing to refine the operating system and to ensure absolute reliability and longevity without sacrificing the look and feel of a high quality custom rifle. The 6.5 Creedmoor ZEV Small Frame combines these benefits with a custom sub-MOA match grade heavy barrel to create a precision rifle that is second to none.
All ZEV Billet Rifles are born of innovative design, the highest quality materials, state-of-the-art manufacturing processes, and rigid standards for impeccable quality and finish work. Using best-in-class components each rifle is assembled and tested in-house by our expert gunsmiths resulting in a light weight, versatile, and high performance firearm. Designed and manufactured in the USA.
read more