RIFLE BARRELS SELECTION GUIDE AR-10, 308 AR/AR 308
CHOOSE THE BEST BARREL FOR YOUR RIFLE
For the purposes of this page, we are concerned with two types of barrels. Those barrels are for the Armalite AR-10 and DPMS LR 308 pattern rifles.
ARMALITE AR-10 and DPMS 308 TYPE BARRELS SHOULD NOT BE USED INTERCHANGEABLY!
ARMALITE AR-10 AND DPMS LR 308 BARRELS USE DIFFERENT BARREL EXTENSIONS!
ARMALITE AR-10 AND DPMS LR 308 BOLT CARRIERS USE DIFFERENT BOLTS!
ARMALITE BOLTS WILL NOT WORK IN DPMS LR 308 BARRELS!
DPMS LR 308 BOLTS WILL NOT WORK IN ARMALITE AR-10 BARRELS!
DO NOT USE AN OLD BOLT IN A NEW BARREL
Bolts and barrel extensions wear with use, and they become mating pieces and should not be used separately on other hardware. Mixed parts can result in injury to the user, damage to a rifle, and poor accuracy.
DO NOT USE AN OLD BOLT CARRIER GROUP IN A NEW UPPER RECEIVER & BARREL
The previous information from the above paragraph applies with the additions of the bolt carrier and upper receiver wear. After some use, the upper and bolt carrier become mating parts and should not be interchanged between other uppers or rifles.
CHECK THE HEADSPACE!
We are firm believers in verifying the proper headspace of the bolt and barrel. Yes, it's a pain to perform but we feel that personal safety is worth the effort. If you do not want to buy the go-no-go gages go to a gunsmith or if your barrel vendor offers headspacing with a new barrel send them your bolt. Some aftermarket barrel manufacturers and suppliers either include proper headspaced bolts with new barrels or offer them at an additional cost.
Welcome Criterion Barrels One of my favorite moments in this business is when I get an email regarding sponsoring this site from a vendor or manufacturer who's products we love and use. Glaring examples would be Brownells, Battle Arms Development and Armalite. Today...
read more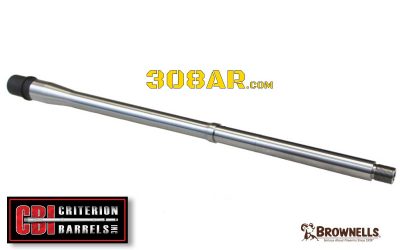 308 AR Barrels Criterion Barrels Inc 308 AR Barrels - .308 AR match grade barrels are designed for DPMS, Remington, Bushmaster, and FA pattern rifles. These barrels feature a barrel extension and hybrid match chamber compatible with both 7.62x51 NATO and...
read more