AR 308, AR-10, 308 AR Receiver Selection Guide
308 Receivers
The upper and lower receiver are the center of a 308 rifle build. Your 308 AR rifle build must start with the selection of an upper and lower that suits your application and tastes. Fortunately today there's a vast array of offerings to choose from.
If you want an actual AR-10, Armalite is your only choice. Armalite offers two different lower receivers, AR-10 Series "A" and AR-10 Series "B". Today starting from scratch our recommendation would be to build an AR-10 Series "A" for the sole reason of being able to utilize common, reliable and inexpensive Magpul LR 308 PMAG magazines. There are other polymer compatible magazines as well.
308 AR, AR-10 Upper and Lower Bargains?
Research the 308 AR, AR-10 Upper Receiver and Lower Receiver Bargain
Lately we have been getting a lot of emails from shooters buying 308 AR and AR-10 upper and lower receivers as separate components at a good price. All these folks have one common problem. They were blinded by the deal of a cheap upper or lower receiver. They are learning a painful and in many cases an expensive lesson. All 308 AR Upper and Lower Receivers are not interchangeable between the various brands and manufacturers. Do your research before you pull the trigger on that new receiver purchase. Remember the old adage "if it sounds to good to be true it probably is".
Armalite is the only AR-10
Armalite is the only AR-10
For some reason some shooters like to argue this simple fact. AR-10 is a licensed and trademarked rifle manufactured by Armalite. The AR-10 comprises two models. The AR-10A and AR-10B. Read the differences here. The Armalite AR-10 in either form is does not share as much commonality as the DPMS LR-308/KAC SR-25 platforms. The Armalite AR-10 upper and lower receivers do not mate up properly with DPMS LR-308/KAC SR-25 platforms. Armalite AR-10 models utilize a different bolt and barrel extension than the DPMS LR-308/KAC SR-25 platforms.
To refer to all 308 AR rifles as AR-10 is wrong and inaccurate. To refer to all 308 AR's as AR-10's is like saying all bolt action rifles are Remington 700 models.
Match Upper and Lower Receiver Brands
Match Upper and Lower Receiver Brands
Today it's our opinion  that it's a best practice to buy a 308 upper and lower of the same brand!
There's a few reasons for this. Some 308 AR manufacturers only offer their 308 receivers in matched sets. This is done for the best fit and function of a rifle. Another compelling reason is warranty and support. Most manufacturers will not warranty or support a rifle of mixed brands. Aesthetics would be another reason. Today there are creative liberties taken with the receivers that simply look silly when mixed and matched.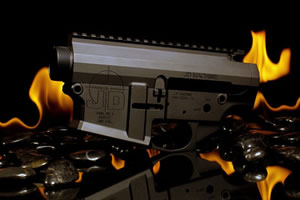 In recent years, JD Machine Tech has manufactured firearms and firearm components for many industry leaders on a production level. JD Machine Tech is fully licensed to manufacture firearms and component parts in the State of California. With the introduction of the JD Machine line of 5.56mm and AR-10, 308 AR semi-automatic rifles into the firearm community. JD Machine Tech knows that knowledgeable customers will be able to recognize the quality product they produce. JD Machine Tech typically allow thei products to speak for itself.
read more