BUILD a LIGHTWEIGHT AR-10 AR 308 308 AR RIFLE
One of the biggest drawbacks of the AR-10 and 308 AR is how much these rifles can weigh. While weight is often a good thing for target shooters it can make the AR-10 and 30 8AR less than desirable for some applications.
CHRISTENSEN ARMS 308 AR 18" CARBON FIBER BARREL
Christensen Arms seems to be one of the few 308 AR barrel manufacturers who seems to be able to consistently deliver a CARBON FIBER BARREL for the 308 AR platform. The barrel is equipped with a DPMS LR-308 compatible barrel extension. If you want to use this an an Armalite AR-10 be sure to use an AR-10 bolt not a DPMS. This 18″ barrel weighs in at 2.3 pounds which is over one pound less than a DPMS 308 SASS Fluted Barrel, 2 tenths of a pound less than the competing Proof Research Carbon Fiber 308 Barrel.
Barrel Weight: 2.3 lbs
Cartridge: 308 Winchester
Finish: Carbon Fiber
Gas System Length: Mid-Length
Length: 18
Muzzle Threads: 5/8-24
Twist: 1-10
Made in the USA
Designed using precision engineering adopted from the aerospace industry, Christensen Arms carbon-fiber AR 308 barrels are crafted using a proprietary layered design that offers any marksman superior accuracy and performance. The barrel lining is made from match-grade 416R stainless steel and is measured to a tolerance of +/- .0001. When it comes to accuracy, Christensen Arms carbon-fiber barrels have performance you can trust. Includes gas block and gas tube.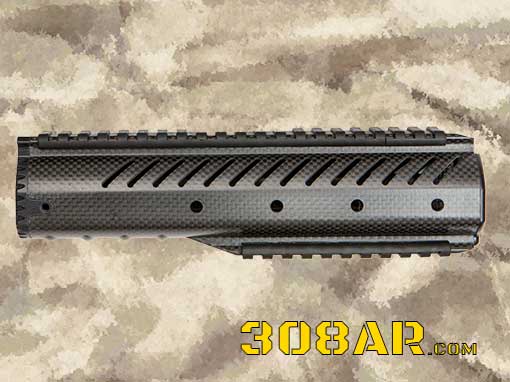 CHRISTENSEN ARMS CA-10 CARBON FIBER AR-10 AR 308 MID-LENGTH HANDGUARD
At 7.5 ounces it's hard to ignore this Christensen Arms CA-10 Carbon Fiber AR-10 Mid-Length handguard. This is lighter than any other mid-length handguard I am aware of. View the video here.
Weight – CA-15  (5.45 oz.)   /   CA-10  (7.5 oz)
Length – 9.25″
Christensen Aerospace DNA – Patented design and manufacturing
Lightweight, Durable, Cutting Edge
45% lighter, 2X stiffer & 5X stronger than aluminum handguard
Integral picatinny rail
Pre-drilled side holes to accept standard MOE rail sections