Introducing the TacOps-1 Ambidextrous Charging Handle.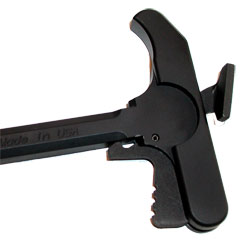 June 20,2011 – Over the course of a few weeks I received several e-mail messages from folks in the field regarding the MECHARMOR TacOps-1 AMBIDEXTROUS CHARGING HANDLE. All were eager to point out two things. The first was that my site featured images from an early out of date version and secondly that I must try one of these CHARGING HANDLES for myself. In an odd twist before I was able to update my sites with current information on the TacOps-1 I was contacted by the manufacturer Mecharmor Defense. After a brief e-mail exchange I agreed to check out two samples of the TacOps-1, AR-15, and 308 AR versions. A few days later the mailperson delivered shockingly wonderful charging handle goodness. The TacOps-1 is a perfect example of internet images not doing a product justice. The TacOps-1 is massive to put it mildly. Below is an image of a BCM GUNFIGHTER Mod 3, TacOps-1, and Colt OEM AR-15 Charging handles (308 is the same just longer).
On paper the Gunfighter Mod 3 is slightly wider than the TacOps-1. My examples show they are identical in width as shown in the image below.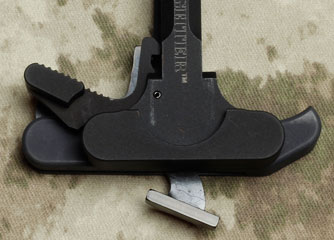 Manufacturers Description:
Mecharmor -The all new TacOps-1 charging handle is the newest and most effective ACTUAL combat innovation that has been designed specifically for the AR platform in some time. Not just another accessory; but a well thought out concept that dramatically changes and enhances the way your weapon is deployed, especially with optics on-board!
All users of the AR platform, especially those utilizing their weapon in combat or law enforcement operations know, that re-charging the weapon in any position, dictates the shooter come out of their Eyes On-Sight, High Ready, off hand or prone position to do so, wasting precious moments to reload or clear a weapon jam, while removing their eyes & situational awareness from potential threats. This issue has always been compounded greatly by the use of optics, especially those extending rearward over the charging handle, even a short distance. The TacOps-1 completely changes all this, adding speed, safety and operator assurance through faster, smoother handling of the weapon, and less body movement.
Sniper Ops: ONLY design that allows fast access with larger optics.
Cycle bolt in hidden prone position with minimal body movement.
High ready position; eyes & weapon on target during CQB operations.
Eyes & weapon on target during reload and jam clearing.
Ambidextrous design for traditional manipulation of handle if required.
Center thumb release button for more natural mechanical advantage.
Clear all optics and allow for lowest rearward mounting position.
Ergonomically correct for use with single point slings.
CNC manufactured from 7075 Billet aluminum with matt black anodize.
Manufactured in an ISO -9000 rated facility for maximum quality.
Designed and tested by former US Army Ranger Battalion Sniper.
30% larger roll pin & 7 pound spring to reduce potential blow-back.
100% American made from 7075 billet aluminum.