6.5 Creedmoor AR Barrels
Converting your large frame AR to shoot 6.5 Creedmoor is a simple barrel change. Whether replacing a .308 barrel or building a 6.5 Creedmoor AR from parts it is advisable to use a new bolt and of course verify proper headspace. Never use a bolt on different barrels. Many barrel manufacturers can provide a matching bolt.
It's important to note that 6.5 Creedmoor is a relative new comer on the AR scene. A good knowledge of firearm function is imperative. Some builds and upgrades might require tweaking of the gun to function consistently and accurately. We recommend using and adjustable gas block when possible.
Criterion Barrels 6.5 Creedmoor Hybrid Contour Barrels
Criterion Hybrid contour match grade 6.5 Creedmoor AR barrels offer an ideal configuration for those seeking extreme accuracy without the added weight of a heavy barrel contour.
Featuring a flatter trajectory and higher ballistic coefficient than the traditional .308 Winchester alternative, the 6.5 Creedmoor has grown in popularity with many long range shooters.
Designed to be compatible with DPMS, Midwest Industries, Remington, and Fulton Armory pattern rifles, these 6.5 Creedmoor barrels can be directly swapped with factory .308 barrels.
Button rifled and hand lapped to ensure consistent bore uniformity, Criterion 6.5 Creedmoor AR barrels incorporate a 5/8 x 24 muzzle thread and finished chamber.
Headspace should be checked prior to installation by a qualified gunsmith.
NOTE: The 18″ barrel utilizes a .750″ gas block while the 22″  utilizes a .875″ gas block (NOT included for either).
Fulton Armory 6.5 Creedmoor AR Barrel, 24"
Fulton Armory 6.5 Creedmoor AR Barrel, 24″, Bull, 1×8, Stainless, by Criterion Barrels. For use on DPMS/Remington/FA pattern .308 AR rifles with a rifle-length gas system, includes barrel extension.
Uniformity of the bore dimension, groove dimension, and twist, along with the finish produced by hand lapping are essential for the ultimate accuracy of the barrel which achieves "Match Quality". Chambered in 6.5 Creedmoor (NOT .308 Win)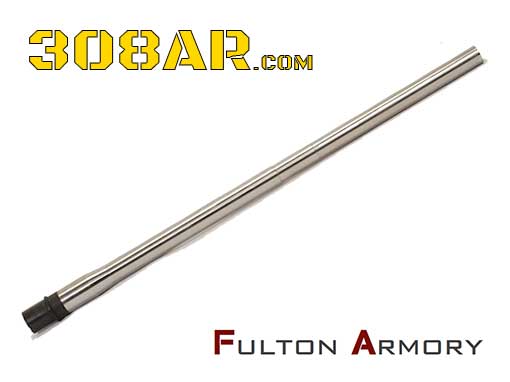 Specifications
24″
Bull contour, 4.79 lbs
1-8 twist 6 Groove
.936 Gas Block
5/8×24 Threaded or Plain muzzle (.875)
6.5 Creedmoor finished chamber
Rifle-length gas system

Gun barrel quality 410 stainless steel

Stainless steel, in the white (Target Gray matte finish available)
Button rifling, double stress relieved
JP Rifles 6.5 Creedmoor AR Barrel 22"
Manufactured to our exacting specifications and used in all of our rifles, JP Supermatch™ barrels are turned from 416R stainless steel, lead lapped, air-gauged and cryogenically treated for cold bore shot predictability, minimum thermal drift, outstanding accuracy and extended barrel life. This barrel also includes a JP High Pressure EnhancedBolt™ individually head-spaced to the barrel for flawless fit and function.
JP Rifles 6.5 Creedmoor AR Barrel 22″ JPSM6.5C-22M8XL Specifications
Chamber: 6.5 Creedmoor, Length: 22″, Gas System: Extra long, Twist: 1:8 button rifled, Contour: .750 under hand guard/.875 in front of gas, Diameter at Gas Block: .936, Muzzle Threads: 5/8-24 TPI, Material: 416R Stainless.
JP Rifles parts are designed to be used as a system and not stand alone to be mixed with other manufacturers parts. if you make the decision to go with the JP 6.5 Creedmoor barrel also use their recoil and gas system parts. You will be pleasantly rewarded with great accuracy and reliability.
Ballistic Advantage 6.5 Creedmoor AR Barrels
6.5 Creedmoor is the perfect option if you're looking to maximize the accuracy of your .308 platform. Apart from a simple barrel swap, all parts, including the bolt and mag, remain the same as a normal .308 build. The inherently accurate 6.5mm projectile, the increasing amount of off-the-shelf match grade factory 6.5 Creedmoor ammunition, and the extremely soft recoil pulse all combine to create one of the best black rifle options available.
Christensen Arms 6.5 Creedmoor Carbon Fiber 308 AR Barrels
Designed using precision engineering adopted from the aerospace industry, Christensen Arms 6.5 Creedmoor Carbon Fiber 308 AR Barrels are crafted using a proprietary layered design that offers any marksman superior accuracy and performance. The barrel lining is made from match-grade 416R stainless steel and is measured to a tolerance of +/- .0001. When it comes to accuracy, Christensen Arms carbon-fiber barrels have performance you can trust. Includes gas block and gas tube.
Specs:
Christensen Arms 416R Stainless Steel Aero grade Carbon Fiber Wrapped
Match Chamber
Button Rifled
⅝ × 24 Threaded Muzzle