Brownells has just delivered the much anticipated AR-15/M16 catalog #10 and it doesn't disappoint. The catalog features more .308AR and AR-10 parts than previous efforts. The catalog features many items not yet listed on their web site. You can order one free right HERE. You might as well grab the Law Enforcement catalog too. Click the image for ordering info for all their catalogs.
I'm not easily surprised but today is an exception. For years a few folks have tried to get their hands on carbon fiber wrapped 308 AR barrels. Waiting lists for unobtanium have been the standard until now. Imagine my surpise seeing these barrels in stock at Brownells.Designed using precision engineering adopted from the aerospace industry, Christensen Arms carbon-fiber barrels are crafted using a proprietary layered design that offers any marksman superior accuracy and performance. The barrel lining is made from match-grade 416R stainless steel and is measured to a tolerance of +/- .0001. When it comes to accuracy, Christensen Arms carbon-fiber barrels have preformance you can trust. Includes gas block and gas tube.
One of my favorite moments in this business is when I get an email regarding sponsoring this site from a vendor or manufacturer who's products we love and use. Glaring examples would be Brownells, Battle Arms Development and Armalite. Today is another such announcement with the addition of Criterion Barrels of Germantown WI. If that name sounds familiar their barrels have been the standard fare on Fulton Armory rifles for years and have been out shootiing much of the competition. Make no mistake this is the "good stuff" at a price that's the same or only slightly higher than entry level or "select" barrels from the competiton. I encourage visitors to visit Criterion Barrels and keep an eye out at Brownells for some good things. Look for more info to come.
It's with great pleasure that I announce the addition of Aero Precision to the ever growing list of supporters and community contributors. Aero Precision is a unique player in a crowded field. They offer an innovative monolithic upper receiver for the AR15 platform, they have an "Enhanced" proprietary and smart upper designed specifically to accept their handguard system. Please visit the Aero Precision website or Brownells to view and purchase their weapons and accessories. Without the generosity of these companies none of this would exist.
In a very welcome move Brownells has added a line of Nitride coated 308AR and 300 Blackout barrels to their catalog. While at this time we dont know for sure who manufacturers these barrels for Brownells we do see similarities between these offerings and a premium barrel manufacturer who also happens to be in Brownells home state of Iowa. Check out the barrels here for yourself.
Phoenix, AZ, November 26, 2013 – Strategic Armory Corps announced it has acquired McMillan Firearms Manufacturing, LLC. McMillan is a premium manufacturer of best-of breed tactical and hunting rifles including the innovative Alias Rifle System. The Alias is a bold new concept in rifle systems that allows for interchangeable components and a switch barrel design. The Alias is available in the CS5 concealable subsonic/supersonic sniper system, the STAR standard tactical application rifle and the Target model.
The McMillan Firearms acquisition will continue to expand Strategic Armory Corps' focus on acquiring the product category leaders in premium firearms manufacturing. McMillan joins with ArmaLite, Surgeon Rifles, AWC Silencers, and AWC Ammo to provide a one-stop-shop approach to serving the needs of high end firearms enthusiasts, law enforcement, military and international users.
"The acquisition of McMillan Firearms is consistent with our focus on acquiring the highest quality manufacturers of premium firearms," said Mark Johnson, Strategic Armory Corps CEO. "This transaction provides the perfect product line complement to the ArmaLite and Surgeon Rifles product lines and will allow us to more effectively serve the needs of the custom bolt action rifle enthusiast."
McMillan's tactical line of firearms includes the highly regarded TAC-50, TAC-416, TAC-308, and TAC-300/338. The hunting line includes the ultimate rifles for both traditional hunting distances as well as ultra-long range demands. Those who want only the best choose McMillan Firearms.
Kelly McMillan stated, "Both Ryan and I will continue on as long term consultants with McMillan Firearms. We are proud of our heritage and are confident that Strategic Armory Corps will continue to build the highest quality firearms for our valued customers".
Strategic Armory Corps is based in Phoenix, AZ and is a fast growing firearms and ammunition company that serves the needs of the high end firearms enthusiast. In July of this year, the company acquired ArmalIte, Inc. one of the oldest names in the AR style sporting rifle segment of the industry.
Staff member Robocop has worked out an arrangment Mecharmor to purchase the AR15 and 308AR TacOps-1 Charging Handles at a reduced rate. Visit this page for information and to place your order.
I get a lot of these types of email messages and the answer is usually pretty simple. I am either unaware or more likely I have no solid information or hands on experience with the particular brand. The Smith&Wesson M&P10 is a perfect example. I have not seen one, nor do I know any shooter that has owned or fired the weapon. I encourage folks to join the forum to contribute their experience to our knowledge base.
As you can see the Browe BCO has simple economics on it's side. You could never use enough batteries to come anywhere near the $600 or so cost of refurbishing the ACOG. If that isnt enough to get you to switch to Browe how about the ACOGs aluminum housing versus the BCO titanium? How about the BCO giving you the choice of A.R.M.S or Larue mounts? How about ATACS and FDE finishes? As you can see the BROWE is quite appealing. Now do not get me wrong this is not a knock against the ACOG as the simple truth is they are battle proven and reliable while the BROWE BCO is just begining to be tested. As for me Im going with the BROWE 7.62, Red Chevron Reticle, FDE finish and Larue LT170 Mount.
If I had a dollar for every time I heard this question I would not need any sponsors or advertisers. There is a saying and Ii probably repeated it here that you should spend as much on your scope (not including the mount and rings)as you do your rifle. While there is something to that not every shooter has that budget and not every shooter needs that level of quality and features. Fortunately in the last year or two the big names in scopes have seen and addressed the niche the affordable .308 scope. I am going to break this down very simply with a personal opinion. In my opinion Nikon has hit a home run with the moderately priced M-308 4-16x42 Riflescope series. The 4x16x magnification should work well with the abilities of most shooters at anything other than extreme distances. The M-308 includes a Nikon one piece mount pictured below.
Im not trying to say the Nikon M-308 is the only choice. Im trying to sat it's an easy choice given performance and budget restraints. Certainly if you can afford more scope by all means go for it. I encourage it.
As mentioned below despite all the anti-gun garbage going on I managed to purchase an Armalite AR-10 A4 10A4CF-2. As any frequent visitor to this site knows there is now way I was going to leave that rifle stock. I kept this project pretty quiet as I have been waiting a long time for the parts to arrive. Well I can finally say I have everything on hand and I will hopefully wrap this project up within a week or two. The only hints I will give is that the rifle will remain preban and it will no longer be OD green.
The 308AR.com forum has been updated. While there are a few bugs to be worked out the user experience should be greatly improved. Click HERE to read the latest posts on the 308AR.com Community Forum
A few forum members were kind enough to take on the responsibility of the official 308AR.com Facebook page. Recently on the forum we began gathering images and content to utilize on the 308AR.com Facebook page. If you have anything to contribute please join the forum and help us out. If you are already on Facebook be sure to "Like" us.
---
---
It had to happen sooner or later. I managed to locate and purchase an Armalite AR-10 A4 or to be more specific an AR10A4 10A4CF-2. The AR10A4 10A4CF-2 is essentially a Connecticut legal (as of the writing) Armalite AR10A4 Carbine with pinned stock, welded and pinned muzzle device in Armalite green. The AR10A4 10A4CF-2 utilizes Armalite proprietary magazines.
Model: AR-10 A4 Carbine with Green or Black Furniture
Caliber: .308/7.62 X 51mm NATO, 4140 steel
Barrel: 16" Double Lapped, Chrome Lined
Rifling Twist: RH 1:11.25" 150-175 Grain Ammo
Muzzle Device: Permanently affixed Muzzle Brake
Front Sight Base: Picatinny Rail Gas Block. Top of gas block is .398 (+/- .010) lower than top of receiver
Upper Receiver: Forged Flat Top Receiver with Picatinny Rail and Forward Assist 7175-T74 Aluminum
Lower Receiver: 7175-T73 Aluminum (forged)
Trigger: Tactical Two Stage, 1st Stage 3.5 lbs - 2nd Stage Approximately 5-6 lbs.
Stock: Pinned non-collapsing buttstock
Overall Length: 37.1"
Weight: 9 lbs
Finish: Anodized Aluminum Upper/Lower Receiver, Manganese Phosphated Steel Barrel
Accuracy: 2 - 2 1/2" MOA
Included with Rifle: Two 10 round Magazine, Sling, Black case, Owners Manual, Limited Lifetime Warranty
---
The design includes an innovative, new A2 front sight designed by ArmaLite engineers! (Geneseo, IL) ArmaLite is proud to announce its AR-10 Law Enforcement Carbine. ArmaLite has long been known for its LE carbines chambered in .223/5.56X45mm NATO. Now comes an LE firearm with the added stopping power of the .308 cartridge. ArmaLite already manufactures well-known, dependable AR-10A2 carbines. They are based on the traditional A2 front sight, A2 upper receiver and permanent carry handle. The AR-10 LE Carbine combines an innovative A2 style front sight with the A4 flat-top upper receiver so popular for its ability to accommodate sights, scopes, lights and other LE accessories. The new A2 style front sight was designed by ArmaLite's engineers and is manufactured from forgings here in our factory. The front sight is taller than traditional A2 front sights to account for differences in AR-15 and AR-10 receiver heights. This eliminates any issues of being able to zero your sights when a carry handle or flip up rear sight is used in combination with an A2 style front sight, on your .308 platform. The result is a spectacular Armalite .308 carbine ready for the toughest LE duty. The 16" barrel is chrome lined chrome moly. The rugged Troy Medieval muzzle brake enhances control and accuracy during rapid fire. It's tough enough to serve as an improvised breaching device if the situation calls for it. The ERGO F93 buttstock features a fixed cheek piece for a constant and repeatable cheek weld in any of the eight available stock positions. Once the buttstock is locked into position, the F93 is as rigid as a fixed stock. With a completely adjustable 4" length of pull, this stock gives the shooter plenty of room for fine-tuning the stock to their liking.
Caliber: .308/7.62X51mm NATO
Barrel: 16" Chrome Lined Chrome Moly Rifling Twist: RH 11:25"
Muzzle device: Troy Medieval Muzzle Brake
Trigger: Tactical Two-stage
Weight: 9 Lbs.
Overall length: 35.3" to 39.3"
Accuracy: 2-2.5 MOA
Included With Rifle: One 10 Round Magazine, Sling, Black Case, Owner's Manual
Limited Lifetime Warranty.
ABOUT ARMALITE: ArmaLite has one of the broadest product lines in the firearms industry. We manufacture and sell semiautomatic rifles in a variety of calibers including 5.56mm and 7.62mm, long range super-accurate bolt action rifles in calibers including .300 Winchester Magnum, .338 Lapua, .50 BMG, and classic 9mm pistols. Visit ArmaLite at www.armalite.com.
---
I have no information on these 308AR BARRELS beyond what is listed on the NEMO product page.
SPECIFICATIONS
Black Nitride Coating, offers superior corrosion resistance and accuracy
300 Blackout barrel has an M4 profile and is chrome moly steel
308 Winchester chambered barrels feature a HBAR profile
308 Winchester barrels are machined from 416 stainless steel
5/8-24 muzzle threads
.750" O.D. at the gas port
16" barrels feature a carbine length gas system
18" and 20" barrels feature a rifle length gas system
300 Blackout barrel fits AR15/M16 receivers
308 Winchester barrels fit DPMS pattern 308 AR rifles
Barrel extensions feature M4 feedramps
308 Barrels have a 1-10 twist
300 Blackout barrel has a 1-8 twist
Black nitride coating, stainless steel (308) and chrome moly (300BLK). Length – 16", 18" and 20". .750" at gas port. M4 feedramps. 5/8-24 muzzle threads. 1-8 Twist (300BLK) and 1-10 Twist (308).
---
Tactical Armz
Old "new kid" on the block
Contact: Bill Moll
tacarmz@sbcglobal.net
Source:(Combatrifle.net)After years in the relative darkness of R&D and special projects, Bill Moll of Tactical Armz, (a division of Lutheriecorp Inc.), announces the launch of their civilian consumer products group at www.tacticalarmz.com .
Primarily involved in firearms suppressor and weapons systems research and development for military and law enforcement applications, Moll is convinced that the American consumer can, and should, be able to acquire very high quality, and yet very affordable NFA firearms and suppressors for personal use.
"With state of the art computer aided technology", Moll says, "economy of scale is maximized while very tight tolerances can be held easily". Going on, "There is absolutely no reason why a highly efficient, and superior quality can needs to cost an arm and a leg."
Tactical Armz produces sound suppressors in all of the most common calibers starting at an MSRP of $225. and offers custom, one off, work as well.
For more information see: www.tacticalarmz.com
---
Brownells has stock and is offering these DPMS compatible BLACK RAIN ORDNANCE 308AR RECEIVERS in matched sets. While I do not know anything about these the NORGUARD coated set looks to be pretty interesting. If anyone reading this has any experience with either of these sets please drop by the 308AR.com forum and tell us what you think.
308 AR Matched Upper and Lower Receivers
Precision machined from Billet Aluminum
Available with a Matte Black or Norguard finish
Built-in trigger guard
Accepts DPMS LR-308 pattern components
Accepts DPMS pattern Magazines, including the 308 PMAG
---
BROWNELLS is currently showing stock for the DPMS 308-BCA-C CHROME BOLT CARRIER GROUP. Given the current political climate these wont last long.
---
In what might be considered a shocking turn of events, Lewis Machine Tool aka LMT was granted a patent for monolithic upper receivers. Mega Arms has stated publicly that numerous times they have reached out to LMT for a licensing agreement with no response from LMT. Mega Arms has stopped selling monolithics. To be clear this decision will have further implications on shooters. Mega Arms is not the only company offering monolithics.
Get you MA-TEN Monolithic while you can.
---
I get quite a few email messages asking why I don't have BUSHMASTER listed as a manufacturer. Well the skinny of it is they are owned by the Freedom Group which also happens to own Remington, DPMS Panther Arms and Bushmaster as well as others brands. All the 308 AR's from those brands are produced at the same facility on the same machinery by the same people.
---
TACTICAL MACHINING the fine folks who bring us 80% AR-15 and 308 AR LOWER RECEIVERS have made available their premium quality DPMS/SR25 stripped uppers and lowers with quality and prices certain to make the competition notice.
Visit TACTICAL MACHINING for more information and visit our dedicated TACTICAL MACHINING page for more images.
---
As we enter our third year of doing this we are still learning a lot about the 308AR platform and I thought it time to share a few opinions and observations from the forum and abroad.
It's not an AR-15 - Despite similar appearances and manner of construction the power of the 308 Winchester and 7.62 NATO round make the 308AR and AR-10 a completely different beast from the AR-15, M16 and M4 platforms. Embrace the platform with an open mind and an empty slate with regards to the AR-15
Lubrication - Run the action dripping with oil until broken in. A little grease on the bolt lugs is helpful too.
Ammunition - Break your rifle in with quality ammunition. Try a few different varieties and brands. Don't buy a lot of cheap ammo and get surprised when your weapon doesn't function, feed, eject or extract. Start with good stuff and eliminate that variable. Stick with bullet weights and ammunition that is similar to 7.62 NATO. That's what these guns were designed to feed and function with. Once you know the weapon is reliable you can experiment with your favorite hunting, hand-load or what ever ammunition suits your taste and budget.
Magazines - Get a few different magazines. Do not just operate with factory magazines or magazines from the same lot. The following seems to mostly apply to DPMS based guns. You should have a few MAGPUL 308 LR-20 magazines on hand at all times. These magazines eliminate the magazine being a variable in a weapon that wont function properly.
Buffers and Buffer Springs - Due in part to no mil spec and a lot of variations between manufacturers we are seeing some weapons being seriously over gassed and running with buffers and springs too light and weak for the task. If you have a DPMS based weapon and are running DPMS buffers and springs spend a few more bucks and pick up an Armalite AR-10 spring and buffer. Try them both and see what works best in your weapon. Pay attention to recoil as that will tell you how hard the action is working. Also a pull on the charging handle will tell you which spring is stronger. Run with which ever set up works best in your rifle. Either keep the unused set as spares or sell them. What doesn't work in one weapon might be fine in another. Also if you want to go the premium route Slash at heavybuffers.com will get you in the best buffers and springs available. His 308 carbine buffers and modified Armalite buffer springs are available at Brownells and directly from heavybuffers.com. Lastly keep in mind buffer springs don't last forever and some buffer springs will give up after just a few thousand rounds, maybe less. Again this is where spares come in handy. Lastly make certain you are using 308 AR based buffers and springs and not those meant for an AR-15 or serious damage and bodily harm are distinct possibilities.
Barrel Gas Port - There seems to be a rush of some folks to want to drill out the gas port in their barrels. I find this a bit troubling. As mentioned previously the 308 AR is inherently over gassed. If your weapon is not cycling properly every effort should be made to understand the true nature problem and not just address the symptom. Drilling a bigger gas port should be a last resort.
Bolt Carriers, Bolts and Barrels, Don't Mix and Match - While you can use a DPMS bolt in an Armalite Bolt Carrier with an Armalite Barrel Extension and vice versa with Armalite Bolts with DPMS Carriers and Barrel Extensions I believe the practice should be avoided. It's too easy to forget you have built a franken rifle and you can cause problems years down the road for yourself or a future owner of the weapon.
Don't be an Early Adopter - We have seen it time and time again, shooters eagerly await a brand new make and model of Receiver, Bolt Carrier Group, some other piece of hardware or a brand new brand rifle only to find they purchased a headache. When in doubt buy an Armalite. They invented the platform. They figured this stuff out before most of us were born.
Optics - Shooters often spend a small fortune on their 308 AR, AR-10 while allowing for a scope budget that's unrealistic. Quite simply imported inexpensive Chinese Scopes are simply not up to the task of prolonged use with the .308 Winchester/7.62 NATO cartridge. Further more tracking is typically dismal as is the glass at extreme magnifications. Look at the Nikon's, SWFA's, Vortex, low end Leupold's to name a few if your on a tight budget. Not to say there are not exceptions but do your homework.
---
I have started building two DPMS LR-308 based .308 AR pattern rifles. The first is a .308 AR Tactical Sniper Rifle and the second is a Long Range .308 AR Target and Varmint Rifle.
Below is an image of the DPMS LR-308 24" Long Range .308 AR Target Rifle
Below is our DPMS SASS 18" "Tactical Sniper Rifle"
---
Forum member branson1369 is about to place an order of some Mega MA-TEN 308 receiver sets for his business and was kind enough to open it up to a group buy to increase his buying power and give forum members a good deal at the same time. He is not allowed to advertise the price so you will need to join the forum and contact him directly for details.
The MA-TEN will be sold only in sets (upper and lower) including a charging handle, threaded bolt catch pin, take down pins, tensioning screw, and door. This was done to guarantee the best possible upper to lower fit and finish. Using the MA-TEN platform also allows you the most options on your next build. Designed to accept any AR style .308 barrels and bolts*. This means you can use your AR10/Noveske or SR25/DPMS components. Any handguard with a barrel nut designed to fit the Knight SR25 or DPMS will fit the MA-TEN upper. The MA-TEN shares a common rail height with the SR25 and the Armalite AR10. The necessary cuts have also been included on the upper to use a Samson handguard. Magazines… take your pick. Any SR25/DPMS compatible magazine such as Magpul, Knight, DPMS, CMMG, and C products. Do you like to bench shoot? Or maybe your next build is going to be for hunting, or just target shooting. Well you can choose to use whatever trigger best suites your shooting needs. The MA-TEN lower will accept any AR compatible trigger. By incorporating the Mil-Spec buffer thread on the MA-TEN lower you have the ability to choose any stock you want. Adjustable Magpul, Mil-Spec A2 and everything in between.
---
NO, The lower receiver is not large enough to accommodate the .308 Winchester/7.62x51 Cartridge. If you wish to operate a .308 diameter cartridge from an AR-15 platform I suggest the 300AAC Blackout.
---
As we see more and more companies jumping in the 308 AR arena problems are beginning to appear. There are four basic problems. The first problem is that guys think the 308 AR is just a bigger AR-15. While they are similar in appearance there are substantial parts differences but even more importantly is the difference in the power of the round itself. This leads us to problem number two, ammunition. The 308 AR, AR-10 platform was developed to fire very specific military rounds. In civilian hands every .308 Winchester round imaginable is being put through these weapons. The results are poor function, under and over gassing. Item three, parts quality. We are beginning to see quality control issues with some of the lesser known names. Insult to injury these companies are often unwilling or unresponsive about making things right for the shooter. Lastly there is no mil spec with the 308 AR platform. Because of this we see issues more frequently with guys putting weapons together with parts from several manufacturers. Accumulative tolerance variations can and do lead to some parts just not working well together.
How you can make a 308 AR a positive experience. First off if you aren't willing to devote the time to learn the ins and outs of the platform or to invest in the proper tools just buy a completed gun from an established manufacturer like Armalite, Fulton Armory, SI Defense and Larue Tactical. If you want a DPMS based weapon buy a Fulton Armory as DPMS is trying to create a proprietary system which will limit your options down the road.
If you are intent on building your own 308 AR from the ground up pick your parts smartly from established manufacturers who will back them up. Call before you buy. That call may hint at the support you will receive if you have a problem. If they aren't helpful before they take your money they sure is hell will not be better once they have it. Don't pre order newly designed critical parts. Stick with established hardware unless you want to be a test subject. Use an adjustable gas block. Have your bolt and barrel head-spaced or learn how to do it yourself. Shoot quality ammo.
---
It appears Brownells is really trying to understand and accommodate the 308AR shooter. They have now included two products from HEAVY BUFFERS. These products are a modified Armalite AR-10 BUFFER SPRING and an AR10/308AR CAR-10 BUFFER. This is the "Go To" carbine stock setup for many 308AR shooters. This buffer and the modified Armalite AR-10 buffer spring will get any DPMS/SR-25 platform rifle with a collapsible stock performing reliably.
---
Recently I received an e-mail from a visitor to the site with a question regarding the clearance between the top of the SASS GAS BLOCK and the JP VTAC 308 HANGUARD used in the BUILD 1 PROJECT. Visitor Brad asked the following:
In reference to your build #1, what is your finding on the JP VTAC fitting over the SASS gas block. According to DPMS the height over bore on the gas block is .85". According to JP there must be .050" clearance between the block and the handguard, which allows for a gas block less than .82" over bore. Therefore according to the math, it won't fit. Actually it will fit, but without the allowable clearance. But what did you find?
What I found was about 3/16" between the SASS GAS BLOCK and the JP VTAC. While I didn't use any measuring tools I think I see the reason for the confusion. It appears to me that the JP/VTAC does not center around the barrel in fact it appears to be slightly offset allowing more space above the barrel than below. One day I will get a new battery in my caliper and take some measurements.
---
(Geneseo, IL) ArmaLite, Inc. is pleased to announce the AR-10A. This new option of the famous AR-10 will accept traditional ArmaLite "waffle" magazines and some 3rd party magazines.

ArmaLite customers asked for a choice, and that's just what we've provided.
The AR-10A family of ArmaLite® firearms is functionally identical to our AR-10B family. Operation, controls, and maintenance are the same. However, the AR-10A family is designed to accept early ArmaLite AR-10 "Waffle" magazines and good quality magazines copied from them, instead of ArmaLite's proprietary aluminum magazines that are used in our AR-10B family. Neither family of firearms will function correctly with the other family's magazines.

We have tested, we recommend, and we ship polymer Magpul PMAG® 20LR magazines with our AR-10As. Other similar derivative magazines such as the KAC, M110, and DPMS / Remington 19 round magazines may fit and may function, but we have not tested them so we can't assess their reliability. You can purchase extra PMAG®s from our website, www.armalite.com.

The first members of the AR-10A family are the AR-10 Super SASS and the AR-10 A4 Carbine. Both will be formally introduced to the public on Tuesday, January 17th at the 2012 SHOT Show in Las Vegas. If you will be attending SHOT, please visit us at Booth 11771.

ArmaLite has one of the broadest product lines in the firearms industry. We manufacture and sell semiautomatic rifles in a variety of calibers including 5.56mm and 7.62mm, long range super-accurate bolt action rifles in calibers including .308 Winchester, .300 Winchester Magnum, .338 Lapua, 50 BMG, and classic 9mm pistols. Visit ArmaLite at www.armalite.com.
---
Some websites base product reviews and endorsements around their advertisers. I was fortunate enough to start and operate my sites with a clean slate without being indebted to anyone. To that end it's always gratifying when the manufacturer of a product I openly endorse, recommend and more importantly OWN contacts be to be a sponsor or advertiser of my sites. To that end I an very pleased to announce ATC has signed on as a site advertiser for 2012.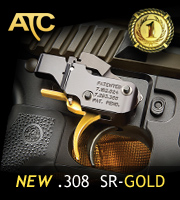 While we have enjoyed a relationship of communication the past few years it pleases me very much to have AMERICAN TRIGGER CORPORATION be part of the growth of 308AR.com as well as further promoting the 308 AR platform. You can purchase the AR-Gold and SR-Gold triggers directly from PACT and Brownells.
---
The fine folks behind the BAD A.S.S AR-15 AMBIDEXTROUS SAFETY SELECTOR are now site sponsors and active members of the 308AR.com. Join the forum and check them out. Click here. You can also purchase them at Brownells. If you already own a BAD A.S.S please review it at Brownells.
---
Welcome Tactical Machining to our ever growing list of site sponsors and advertisers.
---
Ambidextrous tactical charging handle can be operated with minimal body movement in confined spaces, under concealment, or even in the prone position. Lets you to maintain constant visual contact with the target during magazine changes, jam clearances, and other high-stress CQB situations. Extended, ergonomically shaped grasping surface provides an extra-secure grasp and extra leverage for normal charging operation, yet won't interfere with the forward assist or oversized optics that extend behind the rear of the receiver. Dual-mode latch mechanism has a second release button in the center rear of the handle for easy handle operation with the support hand, further increasing your operational versatility. The heavy-duty latch roll pin resists breakage under hard use, and the 7-pound stainless steel latch spring ensures the latch locks down tight—and stays locked—until you release it.
PECS: 7075 T6 aluminum, hardcoat anodized, Teflon coated, black. .223/5.56 fits AR-15/M16/M4. .308 fits AR-Style .308 rifles
---
ArmaLite Introduces Its New High Profile Scope Mount Assembly
"A welcome advance in firearms ergonomics"


(Geneseo, IL) ArmaLite engineers conducted a study to see what height scope mount gives shooters the best sight picture possible. The answer is our new 1" & 30mm mounts that are 1.45" to the center of the optic, an increase of .2". This ArmaLite engineered & manufactured scope mount is a most welcome advance in firearms ergonomics.

ArmaLite has one of the broadest product lines in the firearms industry. We manufacture and sell semiautomatic rifles in a variety of calibers including 5.56mm and 7.62mm, long range super-accurate bolt action rifles in calibers including .308 Winchester, .300 Winchester Magnum, .338 Lapua, and 50 BMG, and classic 9mm pistols.
---
The staff and members of 308AR.com welcome Armalite to our growing list of advertisers and sponsors.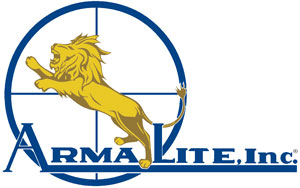 ---
I have dreamed of the day when Brownells would offer ammo sales. It's about time. Click the banner below for info.
---
A few ups and downs in the past few days. The down or should I say bad news is that the state of CT has passed a law that will eliminate nearly all of the funding for my sites. All in the name of collecting taxes from Amazon.com.
The good news: I was contacted by the fine folks at Mecharmor who kindly pointed out that I have an out dated image of the Tacops charging handle. Mecharmor is loaning me two for photographic purposes, one for 308 AR and the other for AR-15. I look forward to getting these in hand. They are becoming all the rage for 3 gun shooters.
The other bit of good news is the folks at Battle Arms Development are sending me a BADASS or Battle Arms Development AMBIDEXTROUS SAFETY SELECTOR for evaluation. BTW the BADASS works with the AR-15 and 308 AR
---
Not only has Brownells added DPMS pattern .308 AR barrels to their catalog but they added one of the best shooting barrels around. These barrels are from FULTON ARMORY which means they are made from Krieger Criterion blanks. While the Krieger Criterions aren't the full blooded Krieger Match Barrels the Criterions are some of the most accurate barrels available. Most shooters will cannot perform better than what these barrels offer. This is a game changer in off the shelf parts for those of us building 308 AR's. Thank you Brownells!!!!
---
BUSHMASTER has out done their 308 ORC and has released what appears to be a well thought out DPMS based LR-308 AR 308. Someone is paying attention to what folks what. The BUSHMASTER MOE 308 Mid-Length has, great specs, it's light weight and priced aggressively. This beast is certainly stepping on the toes of it's 5.56 AR-15 counterparts. Kudos's to BUSHMASTER. Note the minor change in the lower receiver. I wonder if DPMS will implement this across the board
This top quality Bushmaster .308 Mid-Length gas system Carbine brings reliable Bushmaster performance with exceptional ergonomics through Magpul Original Equipment. Key enhancements include the MOE collapsible stock, pistol grip, polymer hand guard, MBUS rear flip sight and PMAG. The premium 16" Heavy Profile Barrel is chrome lined in both Bore and Chamber to provide Bushmaster accuracy, durability and maintenance ease.
.308 Win./7.62 NATO16" Heavy Profile Barrel
Receiver Length Picatinny Optics Rail with Magpul MBUS Rear Flip Sight
Magpul MOE Polymer Mid-Length Hand Guard Accepts MOE Rail Inserts (not included)
Magpul MOE Adjustable Buttstock with Strong A-frame Design and Rubber Butt plate
Magpul MOE Pistol Grip Accepts MIAD Storage Cores (not included)
MOE enhanced trigger guards
Magpul MOE Vertical Grip
Shipped in a Lockable Hard Case with Operator's Safety Manual, 20 Round Mag, Yellow Safety Block and Black Web Sling
One Year Bushmaster Warranty
(Available with Black, Flat Dark Earth or OD Green Furniture
| | |
| --- | --- |
| Caliber: | .308 Win / 7.62 NATO |
| Magazine Capacity: | 20 Rounds |
| Overall Length: | 34" |
| Barrel Length: | 16" [40.64 cm] |
| Rifling: | 1 turn 10" |
| Weight w/o magazine: | 6.1 lbs. |
| Weight of empty magazine: | 0.5 lbs. |
| Weight of loaded magazine: | 1.5 lbs. |
| Mode of Operation: | Gas Operated/Semi-Automatic |
---
These top quality Bushmaster .308 Rifles were developed for the Hunter who intends to immediately add optics (scope, red dot or holographic sight) to the rifle. The premium 20" Heavy Fluted Profile Barrel is chrome lined in both Bore and Chamber to provide Bushmaster accuracy, durability and maintenance ease.
20" fluted 4150 chrome moly-vanadium barrel with crowned muzzle
Mid-length gas system for smoother recoil
Free-floating, vented aluminum fore-end
Hogue® rubberized pistol grip
A2 grip on Vista
Standard A2 stock
Two ¾" mini-risers for optics mounting
MOE™ trigger guard for gloved finger
Ships in lockable hard case, operator's safety manual and 5-round magazine
One Year Bushmaster Warranty
Caliber:
.308 Win / 7.62 NATO
Magazine Capacity:
5 Rounds
Overall Length:
38.25"
Barrel Length:
20"
Rifling:
1 turn in 10" [25.4 cm]
R.H. Twist / 6 grooves & lands
Weight w/o magazine:
8.5 lbs.
Weight of empty magazine:
0.25 lbs. [0.11 kg]
Weight of loaded magazine:
1.0 lbs. [0.45 kg]
Mode of Operation:
Gas Operated/Semi-Automatic
---
Several months ago I purchased a 4 MOA Aimpoint Comp M2 from Brownells. It's been sitting by just waiting for a mount. Well for Christmas the little woman was sweet and bought me a Larue Tactical LT-129 QD Mount designed specifically for the Aimpoint Comp M2. I think the combination is tough to beat. Right now my plan is to mount the unit on my FS2000.
Click on the images below to view them full sized.
---
(Geneseo, IL.) ArmaLite, Inc® is pleased to announce that its new AR-10(T) .260 Remington is in stock and available for immediate shipping.
It's the rifle you want, in the caliber you asked for. The new ArmaLite AR-10(T) chambered in .260 Remington. This is ArmaLite's legendary "T" to a "tee." Its 22" stainless steel Match barrel and National Match trigger perfectly complement the flat shooting, ultra-accurate .260 Remington Cartridge.
The AR-10(T) in .260 is a hunter's dream for game as small as bobcats and as big as brown bears. Marksmen will value its dead on accuracy in match shooting. The .260 is especially suited to younger or novice shooters because of its low recoil. ArmaLite's customers have been asking for this rifle. Now, it's in stock and ready for shipping. See your ArmaLite dealer for details.
About:
ArmaLite has one of the broadest product lines in the firearms industry. We manufacture and sell semiautomatic rifles in a variety of calibers including 5.56mm and 7.62mm, long range super-accurate bolt action rifles in calibers including .308 Winchester, 300 Winchester Magnum, 338 Lapua, and 50 BMG, and classic 9mm pistols. Visit: www.armalite.com
---
Here's something you don't see every day. An off the shelf Flat Dark Earth QD Scope Mount. The Noveske Rifleworks FDE Quick Detach Extended cantilever mount provides plenty of eye relief to mount a 30mm scope, or position a magnifier, night vision device, or other sighting accessory behind the main optic. Two quick-release levers clamp to a flattop receiver rail with unique cam action for a tight hold during recoil. Depress the locking tabs, swing both levers open, and the mount easily lifts off the rifle. Cross bars can be adjusted to fit almost any Picatinny or Weaver-style rail, including over- or under-sized commercial rails. Levers may be positioned to open to the front or the rear to suit the operator's preference. Five, heavy duty steel hex head screws (three on top, two on bottom) clamp the 30mm vertically split ring halves together.
---
Revolutionary 1-8x40 dual function sight designed for complex engagement situations; visit Booth #328 to try out the lighter, sleeker new DTS product.
Jan. 12, 2010 – Kruger Optical will present its Dual Tactical Sight™ Gen II at the 2011 SHOT Show. Visitors will have the chance to try out the revolutionary 1-8x40 tactical sighting system in Booth #328 of the show, Jan. 18-21 at the Sands Expo and Convention Center in Las Vegas.
The patent-pending dual-function sight created a stir when the Gen I prototype was introduced at the 2010 SHOT Show. Since then, Kruger's engineers have been busy refining and perfecting the scope in response to market and end-user feedback. The resulting Gen II product is shorter, lighter and stronger, with improved functionality.
"We got a great response when we introduced the original DTS at SHOT last year," said Kruger President Mark Thomas. "However, we also heard a lot of really good ideas for making the product even better. At that point, we made the decision to stop production and redesign the product in response to the needs of the market. It is our intent as a company to provide innovative products that meet or exceed the ever changing needs of our customers, and we feel the DTS GEN II product has accomplished just that."
Thomas said he expects the product to be available at the retail level during the first quarter of 2011.
Designed for complex engagement situations, the DTS incorporate s two separate sighting systems into a single scope.
The scope has two modes: a high-resolution 1x reflex sight with red-dot reticle for close quarter engagement, plus a 2-8x40 long-range zoom sight with Mil-dot reticle for long-range sighting. The product includes two separate aiming systems, each viewed through the same sight window. The user can switch between modes with the flip of a lever, with no head movement and without looking away from the target.
The product has been designed for the extreme demands of the tactical professional who requires one optical sighting device that can be used for close or long range target engagement. It is also ideal for other applications, such as dangerous game hunting, Thomas said.
"This is a unique product that is the culmination of years of development," Thomas said. "For the tactical-minded user, this product is Christmas all over again. There is nothing like it on the market today … this is the only product that incorporates two separate aiming systems in one sight window. We really believe it is going to increase accuracy, cut down on training time and save lives."
The Gen II version incorporates several significant improvements over the original GEN I model, Thomas said. It features a unique, ultra-strong carbon fiber molded body, which is shorter, lighter and more durable than the GEN I version. It also has unlimited eye relief in reflex mode, with a large viewing window for extremely fast target acquisition.
Unlike other dual-function systems on the market, the DTS does not require any bullet-drop calculations when changing modes, thus saving time and preventing errors. The sight features a patent-pending, extended range elevation system for long-range impact adjustments, with resettable clicks and a Geneva-style revolution counter.
The scope's rectangular shape and square viewing window are also key to the product's performance. The square shape allows for an extremely wide field of view and large viewing window, making it easier to acquire and maintain a target.
A zoom lever makes magnification adjustments quick and easy. All controls on the product are ergonomically designed to be user-friendly and easily adjusted without breaking line of sight.
The scope's illumination system features six brightness levels for varying light conditions. Each brightness setting alternates with an "off" setting, so the user can turn the scope off and then immediately return to the previous setting.
The scopes are engineered and manufactured in Kruger's Sisters, OR, manufacturing facility, from U.S. and imported parts.
Other DTS features include:
One-touch illumination system with six brightness levels, with an "off" setting between each level.
Locking ¼' windage and elevation adjustments with "unlocked" indicator.
Rapid Target Technology (RTT) eyebox combing large exit pupil with long, constant eye relief to ease target acquisition.
Mil-dot reticle calibrated at 8x.
1x reflex sight with 1-mil red dot.
Waterproof/fog proof/argon processed.
Picatinny accessory rail attachment.
Integrated mount system.
Shockproof.
30 ounces.
Patent pending design.
Walter Seace, Sales Manager for Kruger Sports Optics, is available to discuss the DTS at (909) 468-5688, or by e-mail at walters@krugeroptical.com. He will also be available at Kruger's booth #328 at the show.
About Kruger Optical
Kruger Optical is a full-service provider of quality sports optics. Headquartered in Sisters, Oregon, and Walnut, California, the company has been providing binoculars, rifle scopes, spotting scopes and other optics products, as well as optical engineering services, since 1998. With 150 years of combined experience in optical product development and marketing, Kruger Optical's talented and dedicated staff is committed to developing innovative, high performance products for the discerning customer. To learn more, please visit our website at http://www.krugeroptical.com.
---
(Geneseo, IL) ArmaLite is pleased to announce it has a new custom gunsmithing shop. It's called ArmaLite's Premier Services Division. As an introductory offer, Premier Services Division is offering a special deal to ArmaLite customers. Click here for more information.
About: ArmaLite has one of the broadest product lines in the firearms industry. We manufacture and sell semiautomatic rifles in a variety of calibers including 5.56mm and 7.62mm, long range super-accurate bolt action rifles in calibers including .308 Winchester, .300 Winchester Magnum, .338 Lapua, and 50 BMG, and classic 9mm pistols. Visit us at www.armalite.com.
---
GG&G has offered flip up lens modules for many EOTech sights for quite some time. I have also wished for a while that it was an option for my 557AR223. Unfortunately the 557 AR223 hood design didn't allow for the flip up module to be installed. Well I'm here to report that GG&G has solved this by offering a new hood with the flip up lens module installed. GG&G also etched the hood with windage and elevation marking. Lastly in a fashion similar to a land mine the front lens cover is engraved with "Front Towards Enemy"
There's more pictures here.
---
This Timney trigger is a true self-contained, 100% drop-in ready upgrade that will change the way you think about AR triggers forever. Comes with a factory 4 pound pull, this trigger can be installed in minutes without any gunsmithing, fitting or adjustment required. The trigger makes use of your rifle's original hammer/trigger pins, due to its proprietary design the trigger eliminates pin rotation and walkout. The solid, straight design of the trigger shoe is great for competitive events, helping the shooter pull the trigger straight back to the rear without influencing the rifle's alignment with the target. The housing is machined from lightweight 6061 T6 alloy which is anodized for superior durability. The hammer is EDM machined from S7 tool steel and features a Nickel coating which helps deliver the exceptionally smooth, crisp single-stage pull. The other components of the trigger are EDM cut from A2 tool steel, then heat treated to Rc 56-60.
---
Brownells has finally added the American Trigger SR Gold to their online catalog. Check it out here or click the image below. Don't forget to visit my SR Gold trigger page here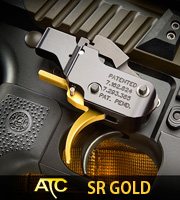 ---
KABUL, Afghanistan – The U.S. military's workhorse rifle — used in battle for the last 40 years — is proving less effective in Afghanistan against the Taliban's more primitive but longer range weapons. As a result, the U.S. is reevaluating the performance of its standard M-4 rifle and considering a switch to weapons that fire a larger round largely discarded in the 1960s.
The M-4 is an updated version of the M-16, which was designed for close quarters combat in Vietnam. It worked well in Iraq, where much of the fighting was in cities such as Baghdad, Ramadi and Fallujah. But a U.S. Army study found that the 5.56 mm bullets fired from M-4s don't retain enough velocity at distances greater than 1,000 feet (300 meters) to kill an adversary. In hilly regions of Afghanistan, NATO and insurgent forces are often 2,000 to 2,500 feet (600-800 meters) apart. Afghans have a tradition of long-range ambushes against foreign forces. During the 1832-1842 British-Afghan war, the British found that their Brown Bess muskets could not reach insurgent sharpshooters firing higher-caliber Jezzail flintlocks. Soviet soldiers in the 1980s found that their AK-47 rifles could not match the World War II-era bolt-action Lee-Enfield and Mauser rifles used by mujahedeen rebels. "These are important considerations in Afghanistan, where NATO forces are frequently attacked by insurgents using ... sharpshooter's rifles, which are all chambered for a full-powered cartridge which dates back to the 1890s," said Paul Cornish, curator of firearms at the Imperial War Museum in London. The heavier bullets enable Taliban militants to shoot at U.S. and NATO soldiers from positions well beyond the effective range of the coalition's rifles.
To counter these tactics, the U.S. military is designating nine soldiers in each infantry company to serve as sharpshooters, according to Maj. Thomas Ehrhart, who wrote the Army study. They are equipped with the new M-110 sniper rifle, which fires a larger 7.62 mm round and is accurate to at least 2,500 feet (800 meters). At the heart of the debate is whether a soldier is better off with the more-rapid firepower of the 5.56mm bullets or with the longer range of the 7.62 mm bullets. "The reason we employ the M-4 is because it's a close-in weapon, since we anticipate house-to-house fighting in many situations," said Lt. Col. Denis J. Riel, a NATO spokesman. He added that each squad also has light machine guns and automatic grenade launchers for the long-range engagements common in Afghanistan.
In the early years of the Vietnam War, the Army's standard rifle was the M-14, which fired a 7.62 mm bullet. The gun had too much recoil to be controllable during automatic firing and was considered too unwieldy for close-quarter jungle warfare. The M-16 replaced it in the mid-1960s. Lighter bullets also meant soldiers could carry more ammunition on lengthy jungle patrols. The M-16 started a general trend toward smaller cartridges. Other weapons such as the French FAMAS and the British L85A1 adopted them, and the round became standardized as the "5.56mm NATO."
The Soviet Union, whose AK-47 already used a shorter 7.62 mm bullet that was less powerful but more controllable, created a smaller 5.45mm round for its replacement AK-74s. "The 5.56 mm caliber is more lethal since it can put more rounds on target," said Col. Douglas Tamilio, program manager for U.S. Army firearms at the Picatinny Arsenal in New Jersey. "But at 500-600 meters (1,600-2,000 feet), the round doesn't have stopping power, since the weapon system was never designed for that." The arsenal, which is the Army's center for small-arms development, is trying to find a solution. A possible compromise would be an interim-caliber round combining the best characteristics of the 5.56mm and 7.62mm cartridges, Tamilio said. The challenge is compounded by the fact that in flat areas of Afghanistan, most fire fights take place at shorter ranges of up to 1,000 feet (300 meters), where the M-4 performs well. U.S. soldiers in militant-infested Zhari district in southern Afghanistan's Kandahar province said they haven't experienced problems with the range of their M-4 rifles. Lt. Scott Doyle, a platoon commander in Zhari, said his troops are usually facing Taliban AK-47s. "When the Taliban get past 300 meters (1,000 feet) with an AK-47, they are just spraying and praying," he said.
Martin Fackler, a ballistics expert, also defended the 5.56 mm round, blaming the M-4s inadequate performance on its short barrel, which makes it easier for soldiers to scramble out of modern armored vehicles."Unfortunately weapon engineers shortened the M-16's barrel to irrational lengths," Fackler said. "It was meant for a 20-inch barrel. What they've done by cutting the barrel to 14.5 inches is that they've lost a lot of velocity."
Associated Press correspondent Sebastian Abbot in Lako Khel, Afghanistan contributed to this report.
---
I purchased the Troy Battle Sights as part of a project to upgrade my early 90's Colt Sporter. Look for more pictures and a review soon. See the project in it's entirety at AR15Tactical.net
---
The .308 rifle becomes an even more versatile and efficient weapon by adding a new hydraulic buffer now offered by Buffer Technologies.
In the constantly growing and competitive market of products developed for law enforcement and the military, we have another product that will help give shooters a competitive edge. This new buffer will be a great asset to those men and women who choose the .308 caliber rifle as one of their weapons of choice, said Rob Parham, Buffer's Director of Military and Law Enforcement Sales.
The .308 is well known by law enforcement officers as a versatile and reliable weapon and one that many trust with their lives. However, because of its reliability, the .308 gets constant use, and can cause parts to wear down. This new product helps reduce shock, protect optics and improve accuracy. Other benefits include faster target acquisition, recoil reduction, suppression of bolt bounce, lower firing rates and drop in replacements.
The new .308 hydraulic buffer is created from black oxide finished steel and black anodized aluminum. It weighs .38 pounds, has a 5.8 inch compression length and is designed for the .308 chambered rifle with a full length buttstock. Buffertech.com
---
This top quality Bushmaster Carbine was developed for the shooter who intends to immediately add optics (scope, red dot or holographic sight) to the rifle - as it is shipped without iron sights. Various add-on rear iron sights can be easily attached to the flat-top Upper Receiver, and Bushmaster's BMAS Front Flip-up Sight for V Match Rifles (Part # YHM-9360K) can be mounted over the Milled Gas Block. The premium 16" Heavy Profile Barrel is chrome lined in both Bore and Chamber to provide Bushmaster accuracy, durability and maintenance ease.
.308 Win.
16" Heavy Profile w/ Mid Length Gas System and A2 Birdcage Flash Hider
Receiver Length Picatinny Optics Rail with Two 1/2" Optics Risers
Milled Gas Block
Heavy Oval Hand Guards
Six Position Telescoping Stock – reduces overall length by 4" when collapsed for convenient carry
Shipped in a Lockable Hard Case with Operator's Safety Manual, 20 Round Magazine, Orange Safety Block and Black Web Sling
One Year Bushmaster Warranty
Caliber:
.308 Win
Magazine Capacity:
20 Rounds
Overall Length:
33.25" - 37.25" [84.455 cm - 94.615 cm]
Barrel Length:
16" [40.640 cm]
Rifling:
1 turn in 10" [25.4 cm]
R.H. Twist / 6 grooves & lands
Weight w/o magazine:
7.75 lbs. [3.52 kg]
Weight of empty magazine:
0.5 lbs. [0.23 kg]
Weight of loaded magazine:
1.5 lbs. [0.680 kg]
Mode of Operation:
Gas Operated/Semi-Automatic
---
Brownells has published an article on .308 AR rifles. If you have not noticed, they have been adding new parts and accessories for our favorite rifle to their online catalog on a steady basis. Read the article here.
---
(Grand Island, Neb.) - Hornady® unveils the next generation of match ammunition - the Superformance™ 308 Win 178 gr BTHP Match. Achieving 2,775 feet per second from a SAAMI spec 24" test barrel, this new load is approximately 175 fps FASTER than any comparable commercial load available today! Topped with the NEW 178 gr BTHP Match bullet featuring a .530 ballistic coefficient, this Superformance™ offering provides industry leading ballistic performance.
The new 178 grain BTHP Match bullet was purpose built, and optimized specifically for the 308 Winchester chamber. It features an aggressive ogive as well as an extremely efficient boat tail that makes this projectile highly effective aerodynamically, yield less wind drift and allows the shooter to obtain flatter trajectories. Accuracy results were excellent. We shot a .680" group at 200 yards with our test equipment, and field tests out to 1250 yards yielded 8 inch, not 8 MOA, but 8 inch total circumferential groups. - Joe Thielen - Hornady Project Engineer
Remaining supersonic to approximately 1,275 yards, this new load provides a 200 to 250 yard advantage over anything else currently available in 308 Winchester. Because Hornady incorporates its Superformance™ technology, there is no increase in pressure, barrel wear or felt recoil. It also offers incredible temperature stability and excellent accuracy potential.
When we combine this high B.C. match bullet with our Superformance™ propellants, the result is a completely new load specifically designed to maximize every aspect of the 308 Winchester. - Dave Emary - Hornady Senior Ballistician.
Founded in 1949, Hornady Manufacturing Company is a family owned business headquartered in Grand Island, Nebraska. Proudly manufacturing products that are "Made in the USA" by over 300 employees, Hornady Manufacturing has become a world leader in bullet, ammunition, reloading tool and accessory design and manufacture.
For further information regarding Hornady products visit our web site at www.hornady.com. Media members interested in Hornady products for editorial review should contact Steve Johnson at sjohnson@hornady.com.
---
Finally the long over due and highly anticipated Magpul PMAG 20-LR are on store shelves. Download the PDF press release here.
Brownells Part# is 100-004-161. These are the most trouble free magazines for DPMS LR308, BUSHMASTER ORC and any other SR-25 magazine based weapon. Every shooter should own a few. Order yours here.
The 7.62 NATO/.308 Winchester PMAG 20-LR is a cost effective, high reliability magazine for SR25/DPMS-pattern rifles, featuring true 20-round capacity, constant-curve body and snap on dust/impact cover. Designed specifically for military-issue Mk11/M110 rifles and mil spec ammunition (including M118LR), the PMAG-LR is less than half the weight of standard issue steel magazines, and maintains a service life round count approximately equal to the rifle itself.
---
Larue OSR Reborn Larue OBR Optimized Battle Rifle
LaRue Tactical was forced to renamed their OSR rifle after Dick Swan of A.R.M.S trademarked the term "OSR". Dick has been going after many tactical gun companies. Earlier this year he successfully sued Troy Industries and is currently litigating against LaRue and Magpul. The good news is that the OBR, after much delay, is shipping.
Here's a message Mark Larue sent to another site:
Guys,
As some of you know, we are under litigation attack by A.R.M.S. (Dick Swan) for using the numerals 1 and 7 in our LT-170 mount part number. He filed for and last spring outrageously got a trademark on "#17" and then he sued us. IIRC, he also trademarked 7.62, 5.56, 50BMG, etc., etc.
I'm more than a little perturbed.
One of his interrogatories (sic) is what evidence I have of soldiers ever having an A.R.M.S. mount fail on them. Ask and ye shall receive.
I know a gent that says that roughly 20% of the A.R.M.S. mounts have to be replaced before he can run the guys in his sniper course. Says they come in flopping in one way or the other, levers loose, roll pins shot, whatever. And these are the ones that are left of the ones that haven't already been replaced.
I have replaced numerous busted A.R.M.S. units in the past, and have heard more stories than I can count ... the gist of one story - "busted levers on square ranges crunching under the boots of trainees" ...
So, I am officially offering to replace/exchange any in-op/broken A.R.M.S. mounts for the LaRue product that best fits as a replacement.
I'll do it even at the unit level. If your team has a bucket full of dead A.R.M.S. mounts of any sort laying around, then put them to good use. I am aware that due to NSN numbers, many are the failed units are likely sh*tcanned and a replacement bought (with taxpayer money). Either way, I don't care how many ... besides, it won't be nothing compared to the attorney bills we are incurring weekly.
I do ask that some sort of note be written that says what the problem is, i.e. broken levers, loosened roll pins, stripped-out threads, etc.
Let me know about any and all A.R.M.S failures you know about ... even if you threw them away, no worries, please let me know about it here.
We may have to spend $100,000 dollars to fend off this attack, and that's money we can't buy equipment with, money we can't hire more folks with, money shot to hell.
Any help from you guys will be much appreciated.
Mark LaRue
---
Originally developed as a submission for the USMC's solicitation for a lightweight precision rifle, the DPMS REPR (which stands for Rapid Engagement Precision Rifle) boasts a host of new and intriguing features.
Based off the company's LRT-SASS platform, the .308 Win. rifle sports a dark tan earth coating on its upper and lower receivers as well as on its free-floated, four-rail fore-end. In addition, the rifle sports a flat dark earth Magpul precision rifle stock that is fully adjustable for cheek weld height as well as length of pull.
The 18" barrel will sport a slim REPR contour with a Remonite finish and is topped off with a threaded muzzle and flash suppressor (although there will be an optional suppressor system).
In addition, the REPR will employ a revolutionary Ventilator gas system that redirects a claimed 40% of excess gas in the direct gas impingement system away from the inside of the receiver's chamber/locking lugs area. This is accomplished through a lengthened gas key on the bolt carrier that works in concert with vent holes in the forward portion of the rifle's upper receiver.
The MSRP is $2,159.
For more information, keep an eye out at www.dpmsinc.com.
---
Here
---
Heavy Duty Trigger Replacement For AR Type .308 & AR Rifles. The Iron Ridge Arms Model II AR Trigger is manufactured as a heavy duty replacement for the ArmaLite AR-10, DPMS, LAR 308 and standard AR-15 designs. This trigger features a wide finger pad, dual springs and is manufactured from fully hardened A2 steel. It also features a 4-4.5 pound factory trigger pull.
---
DPMS LR-308 Part Kits in Stock at Brownells
---
If anyone knows please drop me a line because I cant figure it out.
I have not been able to find reliable information as to the correct wrench for tightening the Titan Handguard. To date the best advice was to buy a face spanner wrench made by Armstrong Tools. That's what I will do. It would be helpful if Fulton Armory would advise a solution or warn potential purchasers of the barrel nut on the product page.
The following wrenches will not fit the Fulton Armory Titan Handguard.
Note: The YHM-9621 will tighten the handguard locking ring so its not a total loss.
The holes appear to be on a 1.750" circle as seen below
Update: 8-03-2009 - A visitor to another site has informed me that he has actually spoken to Fulton Armory on the barrel nut wrench issue. Fulton suggested he purchase a 1-3/4" face spanner wrench. The wrench he purchased for his build was an ARMSTRONG TOOLS 34-110 WR SPNR FACE 1-3/4 BLK. I have ordered a similar wrench. I'm also considering ordering the OTC-6613 Variable Pin Spanner Wrench. I like the OTC model as it is conceivable that I could fabricate custom pin sizes.
---
AMERICAN TRIGGER CORP SR GOLD TRIGGER SYSTEM
ATC has released the SR GOLD TRIGGER for .308 based platform rifles. This trigger comes hot on the heals of the very successful AR GOLD TRIGGER for the AR15 rifle. I look forward to testing this trigger on our Build 2 project. Visit the ATC SR Gold Trigger System page here.
Visit American Trigger Corp
---
My Other Firearm Websites
---

---

---
---
Contact us | View Site Map | Privacy Policy|Links
---
AR15 Tactical | Practical Bike |
---